This is an archived article and the information in the article may be outdated. Please look at the time stamp on the story to see when it was last updated.
A beauty salon owner charged in an alleged murder-for-hire plot that targeted a competitor in the skin-care business pleaded not guilty in a Los Angeles courtroom on Wednesday.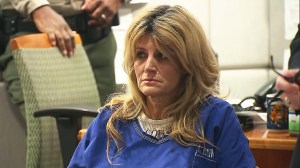 Dawn Melody DaLuise, 55, of North Hollywood was charged with one count of solicitation of murder. She appeared in the Airport Courthouse.
She allegedly tried to hire someone to kill a rival aesthetician who opened a beauty salon in the same complex as hers, according to a news release from the Los Angeles County District Attorney's Office.
DaLuise, who owns the Skin Refinery in West Hollywood, was facing nine years in prison if convicted, the DA's Office stated.
On her website, DaLuise lists actresses Sarah Michelle Gellar, Alicia Silverstone and Christina Ricci among her clientele.
DaLuise was being held on $1 million bail.
Her next court appearance was scheduled for April 17, according to the DA's office.