This is an archived article and the information in the article may be outdated. Please look at the time stamp on the story to see when it was last updated.
A skydiver has died after landing on the roof of a home in Perris, authorities said Monday.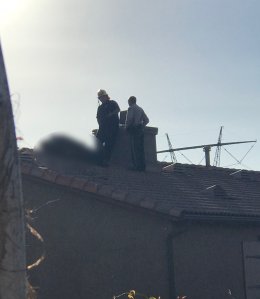 Firefighters were called to the home in the 200 block of Caldera Street just before 3 p.m.
The first arriving engine company reported the patient was on the roof of a home. Within about half an hour, firefighters confirmed the person had died.
A witness who lives near the Caldera Street home told KTLA that the skydiver's parachute was never deployed and did not open. The witness said he had called paramedics.
By the time Ali Muhassen observed the solo skydiver, he appeared to be unconscious.
"No movement at all, his head was down, neck down, arms just flailing around," Muhassen recalled.
He told KTLA he thought the skydiver was going to land in his backyard; instead he fell onto the neighbor's home after his emergency chute apparently deployed moments before he hit the roof.
"I guess his emergency chute deployed, and it kind of picked him up a little bit and it took him to the house behind us," Muhassen said.
On Tuesday, the skydiver was identified as Aime-Jean St. Hilaire-Adam, a 27-year-old Canadian man, by Riverside County coroner's officials. He lived in Calgary.
Aerial video from Sky5 on Monday showed authorities responding to the home about 5 p.m., with the body being placed into an apparent coroner's van.
Perris is the site of Skydive Perris, which operates at Perris Valley Airport. The Caldera Street home is less than 2 miles from the airport.
KTLA reached out to the Federal Aviation Administration, which investigates parachute malfunctions, but the agency is not responding due to the federal government shutdown, according to an automated email reply.
More than 20 people have died in skydiving-related incidents at the Perris facility since 2000, according to the Riverside Press-Enterprise.
Correction: A previous version of this article misstated the time St. Hilaire-Adam perished. The post has been updated.