This is an archived article and the information in the article may be outdated. Please look at the time stamp on the story to see when it was last updated.
A 29-year-old skydiver died Friday following an accident at a popular skydiving facility in Perris, authorities said.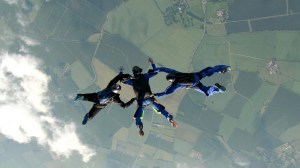 Officers responded to the Perris Valley Airport (map) around 11:20 a.m. after the man was involved in a parachuting accident, according to a press release from Perris Police.
First responders treated the man on scene before taking him to the hospital, where he was pronounced dead, the release said.
The victim's name has not yet been released.
A Marine from Camp Pendleton died in February during a skydiving incident at the same airport. There have been at least 15 deaths at the Perris Valley Skydiving facility since 2000, the Riverside Press-Enterprise reported at the time of that incident.
KTLA's Tracy Bloom contributed to this report.