This is an archived article and the information in the article may be outdated. Please look at the time stamp on the story to see when it was last updated.
San Bernardino County Sheriff's Deputy Lawrence "Larry" Falce, who died Tuesday after being "Violently attacked" on New Year's Eve, was described by family and coworkers as an "amazing" man who loved his job and never lost his sense of humor.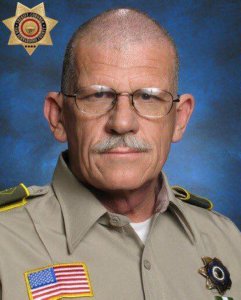 The 70-year-old Falce enjoyed serving the community so much his family said he refused retirement on several occasions, and continued working as a street patrol deputy despite being the oldest sworn member of the Sheriff's Department, according to Sheriff's Employees' Benefit Association, of which Falce was a member.
"He loved interacting with the community," said Sheriff's Dept. Sgt. Marc Bracco, who described Falce as an "amazing deputy." "This is a tragic loss for the department and the family of Deputy Larry Falce."
Falce served 36 years, 32 of those as a patrol deputy, Bracco said.
He died at Loma Linda University Medical Center after being taken off life support Tuesday night.
Falce was off-duty when he was involved in what family members described as a minor fender bender on Dec. 31 near the intersection of Kendall Drive and University Parkway in San Bernardino.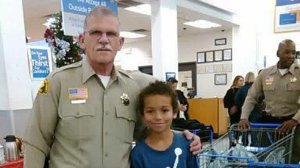 Falce exited his vehicle to exchange insurance information when he was struck, for reasons unknown, by the other driver, the San Bernardino Police Department stated in a news release.
The other driver was later located and is in custody. Authorities identified him as Alonzo Leron Smith, 30. The San Bernardino Sun described him as being a transient.
"These men and women put their lives on the line every day. But crime and senseless acts of violence, nobody can avoid it … my brother is going to leave a hole in this community and in the hearts of everybody," Marjorie Falce-Jorgensen said.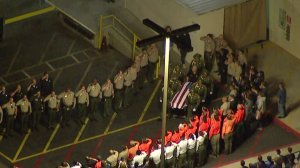 Falce not only patrolled the community but got involved with local charity work as well, participating in the "Shop With a Cop" event just weeks ago, Bracco said.
"He would finish with one kid and get back in line and want to help out another kid," Bracco said.
As nice a guy as Falce was, his nephew said nobody could talk him out of doing what he loved. "He was a 70-year-old deputy sheriff who was working the streets," said Robert Morrisey.
Falce is survived by his sister, his longtime girlfriend, Deborah, and many extended loved ones, according to the Sheriff's Department.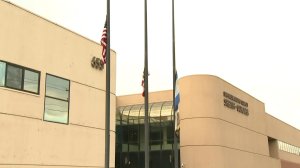 Dozens of deputies and fellow law enforcement agency personnel paid their respects to Falce at a procession outside Loma Linda University Medical Center Tuesday night.
Flags in front of the Sheriff's Department were lowered Wednesday in honor of Falce, who never wanted much fanfare, according to his sister.
Instead, Falce preferred to do his job and brighten people's day with his childlike sense of humor.
"He liked to play around. Never really grew up," Morrisey said.
Jail records show that Smith was arrested the day of the attack and he is being charged with murder, serious bodily injury, participating in a criminal street gang and harming or causing the death of an elderly person. He pleaded not guilty to the charges on Wednesday, according to the Sun.
The newspaper reported that Smith's name had not been released until Wednesday because investigators were looking for more witnesses in connection with the crime.
KTLA's Cindy Von Quednow contributed to this story.