This is an archived article and the information in the article may be outdated. Please look at the time stamp on the story to see when it was last updated.
A veteran Los Angeles County sheriff's sergeant who was shot dead while responding to a home burglary will have a portion of State Route 14 through Palmdale named for him.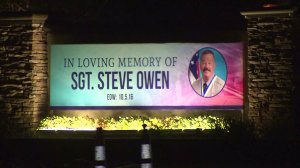 The measure to designate Los Angeles County Sheriff's Sergeant Steven C. Owen Memorial Highway unanimously passed the Assembly Monday after gaining approval in the state Senate the previous week.
The Sheriff's Department announced the measure's passage on its Facebook page on Wednesday.
"Community leaders agree with local citizens that Steve Owen dedicated his life to his community, both on duty and off duty as he coached youth with his local football team," the department stated.
Owen was killed Oct. 5, 2016, when he responded to a burglary call at a home in Lancaster. The man accused of firing at him multiple times "execution-style" has been charged with capital murder.
He was 53 when he died and had served the L.A. County Sheriff's Department for 29 years.
He had been stationed in Lancaster since 1996, and was promoted to sergeant in 2011.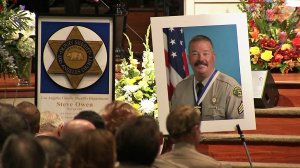 He was very popular in the community and described as "larger than life," sheriff's officials said at the time of his death. The city of Lancaster moved to rename a 63-acre park for him last year; the park was dedicated last month.
Owen was awarded the sheriff's Medal of Valor, its highest honor, in 2014 for saving the life of a hostage who was held a gunpoint in a car.
He left behind his wife, a sheriff's detective, and three children.
The legislation designates a portion of the highway from East Avenue R to East Avenue S in Owen's name.
Assemblyman Tom Lackey, who represents Palmdale, introduced the measure. It directs Caltrans to determine the cost of signs marking the freeway in Owen's name. Donations will cover the cost of the signs.
"We pause to honor Sheriff's Sergeant Steven C. Owen, who made the ultimate sacrifice while performing his sworn duty, and pay tribute to him, a fallen hero, by recalling his devotion, celebrating his life, and honoring his service," the resolution read, in part.