This is an archived article and the information in the article may be outdated. Please look at the time stamp on the story to see when it was last updated.
The transportation security officer killed in a shooting spree at LAX five days ago was honored with an emotional and solemn ceremony at the airport Wednesday.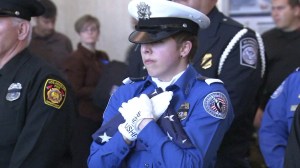 The airport police honor guard received the U.S. National Honors Flag, presenting it to the TSA honor guard to memorialize Gernardo I. Hernandez, killed Nov. 1 in Terminal 3 by a gunman apparently targeting Transportation Security Administration officers.
PHOTOS: A series of images from the memorial ceremony posted are on KTLA's Facebook page.
Hernandez was passionate about his job, according to Jason Pantages, assistant federal security director at Los Angeles International Airport.
"He was a great leader. He's going to be sorely missed," Pantages said. "He really loved what he did and showed that each and every day that he worked."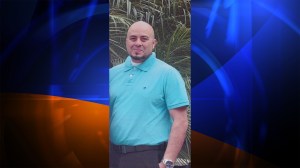 TSA officers at LAX were "battling through" grief and many other emotions in the wake of the shooting, Pantages said.
The American Airlines plane transporting the flag from Austin, Texas, was greeted with a double water cannon salute as the aircraft taxied to the gate.
The Emerald Society bagpipers, who play at the funerals of officers killed in the line of duty, performed on the tarmac as the plane taxied and then inside the terminal as the flag was taken to a waiting motorcade.
Los Angeles International Airport police escorted a female TSA agent carrying the honor flag, along with the honor guard, to the curbside front of Terminal 4.
The processions passed through two long lines of police officer and blue-clad TSA agents on the sidewalk outside the termianl.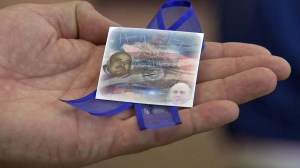 A motorcade then completed two laps around the terminal area to honor Hernandez.
The flag, a gift to the Texas House of Representatives, is designed to honor those who "have lost their lives in the line of duty protecting our lives, our homes and our country," according to a website about the U.S. Honor Flag.
It was taken to Ground Zero in the longest-ever police motorcade just after 9/11, and it flew over the site where the World Trade Center fell.
Hernandez, 39, was the first TSA offer to be killed in the line of duty since the agency's inception in the months after 9/11.
Speaking in front of the family's Porter Ranch home on Saturday, Hernandez's wife Ana said her husband was always excited to go to work.
"We are all heartbroken and will miss him dearly,"  Ana said. "We married on Valentine's Day 1998 and have two beautiful, wonderful children."