This is an archived article and the information in the article may be outdated. Please look at the time stamp on the story to see when it was last updated.
A procession accompanied the body of a slain Whittier police officer from the Orange County coroner's office in Santa Ana to Rose Hills cemetery in Whittier on Tuesday afternoon.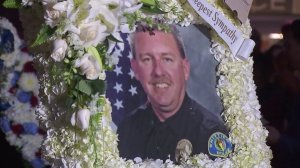 The remains of Officer Keith Boyer were placed into a white hearse just before 1 p.m., and the vehicle was accompanied by fellow law enforcement en route to Whittier, arriving at Rose Hills Memorial Park just before 2 p.m.
"This is a tremendously sad time for us," Whittier Police Department spokesman Officer John Scoggins told KTLA during the procession. "Keith was an exceptional person as a friend, as a coworker, and a police officer for the community for which he served. It's a tremendous loss for us."
Boyer was killed in a shootout with a still-unidentified suspect after he and another officer responded to a vehicle crash in Whittier on Monday morning. The driver of one of the cars involved in the crash, who had recently been released from custody, opened fire on Boyer and the other officer, Patrick Hazell.
Boyer, Hazell and the suspect were all hospitalized. The latter two are expected to survive.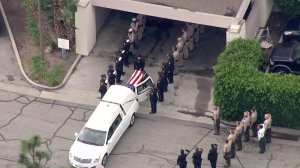 On Monday afternoon, Boyer's body was accompanied by a law enforcement procession from UC Irvine Medical Center to the Orange County coroner's office.
Boyer was a 27-year veteran of the Whittier Police Department, the chief of which on Monday broke into tears describing the death of his longtime friend.
Chief Jeff Piper called Boyer "the best of the best," saying he was respected by younger officers as the "go-to officer" in the field. He was the first officer killed in the department since the 1970s, Piper said.
"You don't know how hard this is," Piper told a crowd at a vigil held at the department on Monday night. "Keith Boyer … he gave his heart and soul for this community."
Hundreds of people attended the vigil. On Tuesday, Scoggins said the department was grateful for the community's support, saying it was helping officers grieve.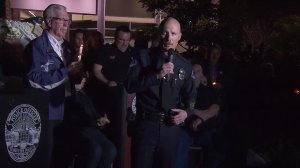 One of Boyer's former colleagues, Mike Carson, said Boyer was "the best partner I ever had."
"Sweetest, kindest guy you'll ever meet," said Carson, who played music with Boyer, as did Piper.
Boyer had recently been talking about retiring, Piper said.
Funeral services will be held for Boyer early next week, the Police Department announced Tuesday.
Friends told KTLA that Boyer, who was divorced, leaves behind four adult children — two sons and a stepdaughter and stepson — and a granddaughter.
Correction: An earlier version of this article included an incorrect spelling for Patrick Hazell's last name. The post has been updated.