This is an archived article and the information in the article may be outdated. Please look at the time stamp on the story to see when it was last updated.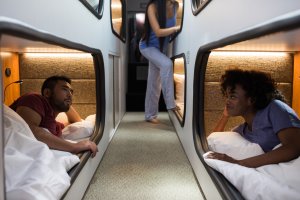 Prepare to be "teleported" from Southern California to the Bay Area. That's the idea behind a new bus equipped with sleeping cabins that leaves Santa Monica at night and delivers your well-rested self to San Francisco the next morning.
Snooze your way north in what Tom Currier, CEO and co-founder of the new service called Cabin, calls "a hotel that moves from one place to the other." He thinks travelers will enjoy making the journey using their sleep time as travel time.
"I'm not spending six hours driving, I'm on a memory foam bed, and I'm more refreshed when I get into the city," Currier said.
Each bus has been tricked out with 24 cabins with beds, a bathroom and a lounge for the six- to eight-hour journey. Buses are equipped with electrical outlets and free Wi-Fi. There's an attendant on board too, in case you crave a cup of tea in the evening or an espresso in the morning.
Read the full story on LATimes.com.