This is an archived article and the information in the article may be outdated. Please look at the time stamp on the story to see when it was last updated.
Harrison Ford was the pilot who was injured after a small World War II-era plane he was flying crashed at a city golf course in Venice Thursday afternoon, a source close to the Ford family told KTLA.
Ford, a 72-year-old longtime aviator, was going into surgery for broken bones in his ankle and pelvis, the source said about four hours after the crash was reported — shortly before 2:30 p.m.
The approximately 70-year-old male pilot was conscious and breathing when bystanders initially rendered aid at Penmar Golf Course, the Los Angeles Fire Department's Erik Scott said.
The pilot was hospitalized and no one else was injured, said Scott, who gave the address of the crash as 1233 Rose Ave. (map)
Authorities have not confirmed that Ford, who is well known at Santa Monica Airport, was the pilot.
"We are bound by privacy laws to never discuss … the patient's identity," fire Assistant Chief Patrick Butler said.
But a source close to Ford's family told KTLA: "He's fine, has a few gashes." The individual later said the actor was going into surgery for broken bones.
Ford's son tweeted about 5 p.m. that he was with his father at the hospital.
"At the hospital. Dad is ok. Battered, but ok!" Ben Ford wrote. "He is every bit the man you would think he is. He is an incredibly strong man."
Celebrity news website TMZ.com first reported that the pilot was Ford, whose publicist sent a statement about the crash hours later.
Ford was flying a World War II vintage plane that had engine trouble upon takeoff, publicist Ina Treciokas wrote in a statement.
"He had no other choice but to make an emergency landing, which he did safely," Treciokas said. "He was banged up and is in the hospital receiving medical care.  The injuries sustained are not life threatening, and he is expected to make a full recovery."
The pilot was in fair-to-moderate condition when he was transported, not in critical condition as originally reported, according to Butler.
The pilot reported a loss of engine power after taking off from Santa Monica Airport at 2:20 p.m., according to National Transportation Safety Board Investigator Patrick Jones, who said he was describing information obtained from an air-traffic control recording.
The pilot was attempting to return to runway when he clipped the top of a tree and came to rest on golf course, Jones said during a 6 p.m. news conference.
"Flying an aircraft … takes experience. This pilot is an experienced pilot," Jones said.
Jones referred to the plane as an "old, vintage aircraft."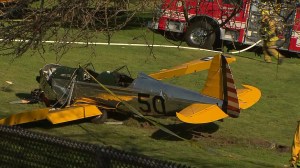 Asked repeatedly if Ford was "lucky," Jones said that any individual's survival of a crash marks "a good day."
Ford's acting career began with a variety of bit television roles in the late 1960s and early 1970s before he landed the part of Han Solo in the 1977 blockbuster "Star Wars," a role he would reprise multiple times throughout his career.
In 1981, Ford starred as Indiana Jones in Steven Spielberg's "Raiders of the Los Ark." A year later, he landed another iconic role, playing Rick Deckard in "Blade Runner."
At the site of Thursday's crash in Venice, the plane was left right-side-up on a grassy area kitty-corner from the southwest corner of Santa Monica Airport, aerial video from Sky5 showed. The landing left a gash in the grass and dirt.
The aircraft suffered a medium-to-high impact on the grass, and bystanders rendered aid before firefighters' arrived and provided medical aid, according to Scott of the Fire Department.
Dr. Sanjay Khurana, one of the golfers who responded before paramedics arrived, said he first checked his airway and circulation and determined the pilot was stable.
Then he helped extricated Ford from the aircraft because fuel was leaking from the plane.
"He appeared to be conversant. He was oriented. And he was a little shaken up, as you would imagine, but he was intact," Khurana told KTLA. "Generally, considering the trauma, he looked pretty good."
Khurana said it appeared the plane's engine was not running when it appeared the aircraft was trying to make a landing. The group that was golfing in front of his moved out of the way, he said.
"I looked up and the next thing I realized, the wing had clipped a tree. And it just came straight down," Khurana said.
The single-engine airplane went down on the golf course west of the airport after taking off, according to Ian Gregor, a spokesman for the Federal Aviation Administration. Gregor said he had no other information.
Fellow pilot, Tom Haines, who had flown with the actor in the past praised Ford's  piloting skills. "He's very safety-conscious and goes to training routinely for all of his aircraft," Haines told CNN.
The plane was Ryan Aeronautical aircraft model ST3KR, manufactured in 1942, online FAA records show. It was registered to MG Aviation Inc. in Camden, Delaware.
The incident was not the first time an aircraft crashed at the golf course. In 2010, a 60-year-old male student pilot died when the plane he was flying crashed into the city-owned facility, the Santa Monica Mirror reported.
The Los Angeles and Santa Monica police departments were working to secure the scene amid an ongoing investigation. Drivers were asked to avoid the area of Dewey Street between 21st and 23rd streets.
More Video: