This is an archived article and the information in the article may be outdated. Please look at the time stamp on the story to see when it was last updated.
A small plane crashed in an intersection after departing Van Nuys Airport Friday afternoon, killing the aircraft's pilot.
The plane went down at Hayvenhurst Avenue and Vanowen Street (map), just south of the small airport in Los Angeles' San Fernando Valley.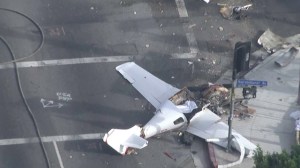 The Los Angeles Fire Department was called to the scene at 1:14 p.m., and the one occupant on board was determined to be dead, according to the department's Erik Scott.
The pilot was identified as 47-year-old Alberto Enrique Behar of Scottsdale, Arizona, said Lt. R. Hays with Los Angeles County coroner's office.
Behar was a professor at Arizona State University as well as a member of the Mobility and Robotic Systems Section at the Jet Propulsion Laboratory in Pasadena, according to his online biography.
The plan did not collide with any vehicles, structures or people on the ground, authorities said.
"It could have been a lot worse," police Sgt. Barry Montgomery said. "The citizens in this area really were fortunate that it wasn't a more tragic incident."
The fixed-wing aircraft was down in the middle of the intersection, and firefighters appeared to have placed a sheet over a body, aerial video from Sky5 showed. The aircraft's cockpit was destroyed.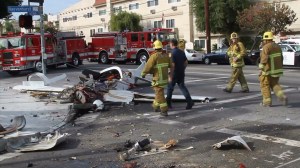 Witness Cheryl Dickerson said she saw the plane but heard no engine noise and then there was a "loud crash" and she saw the plane "just break apart." She said it looked like the plane tried to avoid people on the street.
"There were people up and down the street. Everybody was screaming and running over there to see if we could help," Dickerson said. "But by the time we got there, there was nothing anybody could do. … I am in shock — to see something like that so close and not to be able to help."
The plane's tail number indicated it was an experimental, amateur-built, single-engine, fixed-wing Lancair 320.
The plane's registration was listed as "pending" in Federal Aviation Administration records, and it was linked to an address in Scottsdale.
In response to an email inquiry, a spokesman for the FAA said only that the Lancair had crashed under "unknown circumstances" after departing from Van Nuys Airport.
The National Transportation Safety Board was the lead in an investigation into the crash, Scott said in emailed update.
The Fire Department was working with the airport and police to determine what led to the crash, Scott told KTLA.
The intersection of two major thoroughfares was shut down and traffic was being rerouted by police, who urged drivers to avoid the area.
Runways at Van Nuys Airport were inspected after the crash, and the airport's Twitter account stated that the facility was operational.
More Video: