This is an archived article and the information in the article may be outdated. Please look at the time stamp on the story to see when it was last updated.
An investigation was underway after the pilot of a small plane performed an emergency landing on a street in Huntington Beach Friday afternoon, according to authorities.
Huntington Beach police received a call about 4:55 p.m. regarding a plane that was coming down or about to crash, Officer Angela Bennett said. When officers arrived two minutes later, they discovered the female pilot had made an emergency landing on Hamilton Avenue, between Newland Street and Seaforth Lane, Bennett added.
Neither the pilot nor anyone on the ground was injured, according to the officer.
The plane was en route to John Wayne Airport when it lost power, airport officials reported on Twitter. The post went on to say that the aircraft landed safely, and there was no impact to airport operations.
FAA spokesman Ian Gregor described the plane as a single-engine Cessna 172. Records showed the aircraft was registered out of Los Angeles.
Surveillance video showed the plane traveling down the street, narrowly missing several vehicles. Neighbors said they were very impressed that the pilot was able to land without hitting any vehicles or power lines.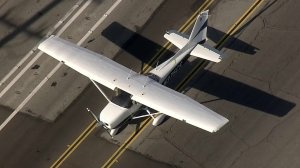 The incident attracted several people to the scene. A resident of the area said she heard a loud rumbling, which is when she and her husband ran out of their house and discovered the aircraft in the middle of the road.
The FAA was handling the investigation.
KTLA's Nidia Becerra and Matt Phillips contributed to this story.