This is an archived article and the information in the article may be outdated. Please look at the time stamp on the story to see when it was last updated.
Rescuers hoisted a pilot to safety via helicopter after an emergency landing in a wash alongside the San Gabriel Valley Airport in El Monte on Thursday. The airplane experienced engine failure shortly after 5 p.m., Los Angeles County Sheriff's Department officials said
via social media
.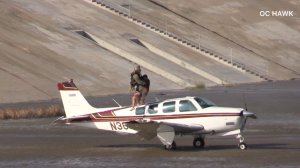 It ended up landing in the Rio Hondo Wash just outside the airport, on top of several inches of fast-moving water, as viewed in aerial footage from Sky5. The pilot, Jose Ramos, managed to get out of the aircraft unharmed before paramedics used a helicopter to hoist him out of the wash. He said he's been flying several times a week for a decade. "The engine sputtered and it seems that I ran out of gas on one of the tanks," he said. "So I switched to the other side and it wouldn't restart." With only seconds to react as the aircraft lost altitude, Ramos said he spotted a busy street, a school and the wash as possible landing areas. He aimed for the wash. "I was just concerned about hurting someone else," he said. "It happened so fast because your so low," Ramos said. "It wasn't like you have 30 seconds. You have 10 seconds to react." Though he was fortunate to escape injury, "They pulled me out with a helicopter, which was kind of embarrassing," he said. He likened the landing to the Log Ride at the Knott's Berry Farm amusement park.
Video from #LASD Air Rescue 5. LASD SEB Tactical Medic is lowered to rescue the pilot of a small aircraft with engine failure that landed in the currents of the Rio Hondo wash, just outside of El Monte Airport. pic.twitter.com/XFH92rgNeb

— SEB (@SEBLASD) June 28, 2019