This is an archived article and the information in the article may be outdated. Please look at the time stamp on the story to see when it was last updated.
Los Angeles County health officials issued a smoke advisory Saturday as a raging wildfire burning east of Santa Clarita sent smoke and ash drifting to surrounding areas.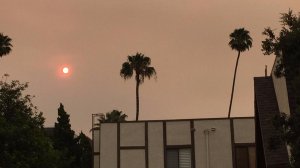 Smoke from the Sand Fire was causing unhealthy air quality in central Los Angeles, Pomona, and the San Fernando, San Gabriel and Santa Clarita valleys, according to a news release from the county's Department of Public Health.
KTLA viewers reported ash falling in many areas far outside the Santa Clarita Valley, such as Burbank, Corona and Downey.
The combination of fire, smoke and a heat alert spurred the department to encourage individuals to take precautionary measures and protect themselves, particularly those with heart disease, asthma or other respiratory ailments.
In areas with lots of smoke particles or ash in the air, individuals should limit exposure by avoiding unnecessary outdoor activity and staying indoors, the release stated. Doors and windows should be kept closed, and air conditioning units that only draw air from the outside should be turned off.
"It is difficult to tell where ash or soot from a fire will go, or how winds will affect the level of dust particles in the air, so we ask all individuals to be aware of their immediate environment and to take actions to safeguard their health," L.A. County Interim Health Officer Dr. Jeffrey Gunzenhauser said in the release.
Additionally, individuals are urged to limit physical exertion such as exercise, whether indoor or outdoor, according to health officials.
"Non-school related sports organizations for children and adults are advised to cancel outdoor practices and competitions in areas where there is visible smoke, soot, or ash, or where there is an odor of smoke," Gunzenhauser said. "This also applies to other recreational outdoor activity, such as hikes or picnics, in these areas."
Pets should also be kept indoors while air quality is unhealthy.
Any resident who loses power as a result of the fire, especially the elderly or those with sensitive health conditions, is urged to take advantage of the many cooling centers that are open around Southern California.
The centers can be located by dialing 211 or accessing the list on the department's website.
The advisory is scheduled to expire midnight Sunday, according to the South Coast Air Quality Management District.