This is an archived article and the information in the article may be outdated. Please look at the time stamp on the story to see when it was last updated.
Smoke from the fast-moving Canyon Fire 2 burning in Orange County is creating an eerie atmosphere at Disneyland, visitor photos shared on social media showed Monday.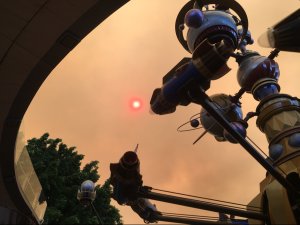 The blaze, which is now burning in parts of Anaheim, Orange and Tustin, is creating poor air quality throughout the area, and officials have warned residents to be careful while driving.
No smoke alarms have been activated at the Disneyland Resort, and the parks remain open, officials there told KTLA.
Visitors took to Twitter and Instagram to share photos at the resort, which is decorated for the Halloween season.
The sky was painted an orange hue and served as the backdrop for the park's famous attractions, including Sleeping Beauty's Castle and the Matterhorn Bobsleds ride.
One visitor pointed out on Twitter that the current conditions mirrored the advertisement for the "Halloweentime" decorations.
Another likened a photo of Tomorrowland to the land of Tatooine in Star Wars.
The South Coast Air Quality Management District has issued a smoke advisory in the area because of the fire through Tuesday morning. The north and central portions of Orange County are under the smoke advisory, along with Saddleback Valley, Capistrano Valley, Corona and Norco and north and southwest Los Angeles County.
"Air quality may reach unhealthy levels or higher in areas directly impacted by smoke," according to the advisory.
Smoke and ash have been reported in portions of Orange County and western areas of Los Angeles County.
Eerie skies over @Disneyland looks like the #HalloweenTime advertisement… #canyonfire2 #anaheimhills pic.twitter.com/5LL4yF61H2

— Amanda Busick (@AmandaBusick) October 9, 2017
#CanyonFire2 spookiness pic.twitter.com/UjGrum2Ypo

— Andrew (@andrewveis) October 9, 2017
These #Disneyland #AnaheimHills fire photos. Kinda spooky. pic.twitter.com/7JPVkZRf6y

— Kenny Baker (@Kennybaker85) October 9, 2017