This is an archived article and the information in the article may be outdated. Please look at the time stamp on the story to see when it was last updated.
Two fiery big rig incidents, one of them fatal, caused some backup on the 5 Freeway in the Santa Clarita and Castaic areas early Wednesday.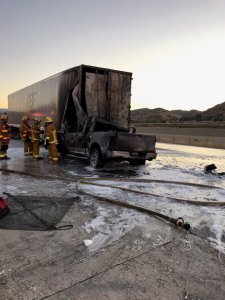 The first crash, between a pickup truck and a semitrailer, happened in the middle of the northbound side of the freeway around 5:30 a.m. just north of Hasley Canyon Road in Castaic, according to Caltrans and California Highway Patrol's incident log.
Both of the vehicles caught fire, and one fatality was reported, Caltrans said. The pickup truck, apparently charred, ended up rammed into the back of the big rig's trailer.
The collision triggered a partial closure of the freeway near Hasley Canyon Road. All lanes were reopened by 11 a.m.
Half an hour after that incident happened, about 8 miles south, CHP reported a second big rig crash on the southbound 5 Freeway near Calgrove Boulevard in Santa Clarita.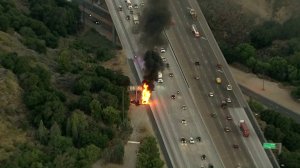 Sky5 video showed flames engulfing a semitruck on the side of the freeway, sending a plume of black smoke over the area.
The driver managed to get out of the big rig, according to CHP.
Aerial footage showed officers blocking off the two lanes closest to the burning vehicle.
Editor's note: CHP initially provided an incorrect location for the Santa Clarita incident. This post has been updated.