This is an archived article and the information in the article may be outdated. Please look at the time stamp on the story to see when it was last updated.
A smoking materials shop was destroyed during a fire in downtown Los Angeles Monday night, fire officials said.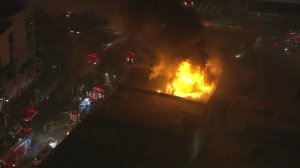 The incident was reported about 8 p.m. in the 300 block of East Third Street at a 100-year-old two-story building housing "Smoke Tokes," according to the Los Angeles Fire Department.
The blaze appears to have started on the first floor and quickly spread to the second floor and through the roof, said Deputy Chief Phillip Fligiel.
Aerial video from Sky5 showed flames shooting from the roof of the building.
Flammable pressurized gas cylinders were exploding while firefighters were working to put out the blaze, creating hazardous conditions, the fire department reported.
Spectators gathered to watch the flames across the street from the incident.
More than 160 firefighters eventually knocked down the blaze about two hours later, but several trucks remained at the scene Tuesday morning making sure no flare ups occurred.
Motorists are being asked to avoid the area of Third and San Pedro streets until the scene is cleared.
No injuries were reported during the blaze and the cause remains under investigation, officials said.