This is an archived article and the information in the article may be outdated. Please look at the time stamp on the story to see when it was last updated.
A Palmdale family got a scare when they found a snake slithering around in their bathtub Wednesday night.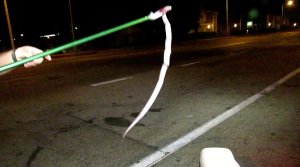 Sabrina, a resident of the Royal Palms apartment homes in the 38700 block of 10th Street East, said the incident occurred a short time after she got home from work.
Sabrina's father was filling up the bathtub and accidentally grabbed the snake when he went to check if the tub was full.
"He thought it was a rag or something that was just slithering around," Sabrina said, adding that her father's vision is a little blurry.
Los Angeles County Fire Department crews initially arrived, but called in animal control to remove the snake, another resident named Michael said.
Video from the scene showed an animal control officer putting the long snake into a bucket to be taken away.
Officials were not sure what type of snake it was or how it got into the apartment.
"Animal control guy actually said that it may have come up through the toilet," Michael said.
Regardless of how the snake snuck in, it has Sabrina thinking about leaving.
"I'm kind of scared … I kind of want to move out," Sabrina said.