This is an archived article and the information in the article may be outdated. Please look at the time stamp on the story to see when it was last updated.
It was snowing in Big Bear and raining heavily in the Antelope Valley Thursday afternoon, a day when parts of Los Angeles County were under a severe thunderstorm warning as a low-pressure system passed through Southern California.
Pea-size hail and dangerous lighting were possible, along with gusty winds and brief periods of heavy rainfall in the Inland Empire, according to the National Weather Service.
A flood advisory was in effect through 7 p.m. for central Riverside County and until 7 p.m. for north-central Los Angeles County.
Meanwhile late Thursday afternoon, amid a severe thunderstorm warning, heavy rain and hail dumped from darkened skies in the Palmdale area, leaving roads flooded.
Nearly 1 inch of rain fell in 30 minutes at the Palmdale Regional Airport, the weather service tweeted at about 4:30 p.m.
A possible funnel cloud was reported by multiple people in Palmdale as well.
The weather service had warned the storm could have serious impacts.
"If you are in its path, prepare immediately for damaging winds, destructive hail and deadly cloud-to-ground lightning," the National Weather Service stated. "People outside should move to a shelter, preferably inside a strong building but away from windows."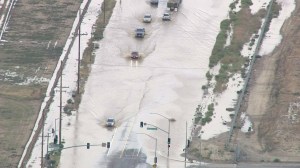 The storm, capable of quarter-sized hail and 60 mph winds, was located 7 miles northeast of Palmdale at about 3:45 p.m., the weather stated.
"Weak rotation" within the storm had been detected by radar, and a tornado could develop, according to the weather service.
It was weakening as it moved toward the San Fernando Valley, which could see just a few drops of rain in some areas, according to KTLA meteorologist Jim Castillo.
A thunderstorm was also moving from Santa Barbara about 3:35 p.m., and area residents were warned to "expect heavy rain and hail" along the 101 Freeway, the National Weather Service's Oxnard office stated on Twitter.
Also on Thursday afternoon, KTLA's camera at Snow Summit (map), a resort the San Bernardino Mountains, caught a snow storm moving in just before 3 p.m.
It had begun to drizzle just after 1 p.m., the resort stated on Twitter.
Snowfall could also be expected elsewhere in the Inland Empire above 8,000 feet, the weather service stated. Heavy precipitation was expected in the San Jacinto Mountains east of Hemet.
The snowfall and thunderstorms came just before the Memorial Day holiday weekend, when it was expected to warm up, according to forecasters.
https://twitter.com/Snow_Summit/status/469571518666530817
Currently, it is 36 and raining in #BigBear. However, light snow is falling over the higher peaks. #SnowSummit & #Wrightwood.

— NWS San Diego (@NWSSanDiego) May 22, 2014
https://twitter.com/teshi179/status/469618952536993792