This is an archived article and the information in the article may be outdated. Please look at the time stamp on the story to see when it was last updated.
Two men dubbed the "Cowboy Bandits" were convicted in connection with a series of armed robberies at gas stations and a bank throughout Los Angeles County in the fall of 2013, FBI officials said Tuesday.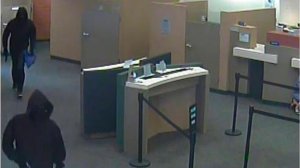 Dominic Dorsey, 48, of Hollywood, and Reginald Bailey, 71, of Jefferson Park were arrested in June 2014, the Los Angeles Times reported.
They were nicknamed the "Cowboy Bandits" because one of the men brandished a long-barreled Colt six-shooter, the newspaper reported, and authorities believe they might be linked to more robberies.
The first robbery occurred on Sept. 24, 2013 at a Shell gas station in Woodland Hills. The men then robbed gas stations in Newhall, Woodland Hills and Encino in October, before robbing a Citibank in Glendale on Nov. 5, FBI officials said in a news release.
The men got away with $55,000 during the bank robbery.
They wore mostly black clothing and never left anything that would trace authorities back to them, according to the Times.
Authorities, however, discovered that many of the robberies were captured by video surveillance. Investigators noticed that one of the robbers was missing part of his ring finger on his left hand, leading them to Bailey, who only has four fingers on his left hand.
Surveillance footage of a vehicle used during the crimes also helped authorities find the men, the Times reported.
After a two-week trial, the men were found guilty of conspiracy to interfere with commerce, a violation of the Hobbs Act, five counts specific to the Hobbs Act and five counts of using a firearm during the robberies.
U.S. Attorney Eileen M. Decker described the robberies as "brazen" and said Dorsey and Bailey "terrorized employees."
The defendants face at least 107 years in prison, according to the FBI.