This is an archived article and the information in the article may be outdated. Please look at the time stamp on the story to see when it was last updated.
A Southern California rock band had played Friday night at the venue where hostages were reportedly taken following multiple attacks in Paris that left more than 150 dead.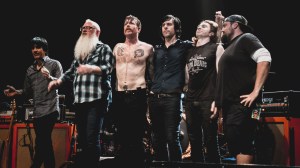 The hostage situation took place at the Bataclan theater, and the Associated Press reported that 100 people had been taken hostage.
Related: More Than 150 Killed After Series of Coordinated Attacks in Paris attacks 
 Eagles of Death Metal, a rock group based in Palm Desert, was scheduled to perform at the Bataclan Friday night, according to the band's website.
About 3:45 p.m., the band updated its Facebook page: "We are still currently trying to determine the safety and whereabouts of all our band and crew. Our thoughts are with all of the people involved in this tragic situation."
The mother of the band's drummer Julian Dorio told the Washington Post her son was safe. Mary Lou Dorio said band members fled the venue when the attack began.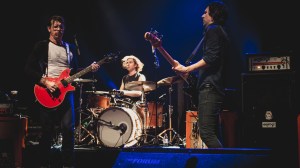 The report followed unconfirmed social media posts that stated the band was OK.
A Facebook post from the lead singer Jesse Hughes' brother David Ian Hughes said later said he and the band were OK.
"Jesse Hughes is ok. I spoke to him about an hour ago. The band is ok too. I hold out hope that as many people as possible make it out ok, as well. As the situation is still developing, I can not say much else," the post read.
A person who is in contact with someone inside the Bataclan theater told CNN that six to eight hostage-takers had gone through the concert venue looking for people who might be hiding.
A witness who was inside the theater described to the cable news network "10 horrific minutes" as gunmen with AK-47s entered the concert hall and began opening fire at random.
The hostage situation ended with two of the attackers being killed, the Associated Press reported. More than 100 people inside the concert hall were believed to have died, and unknown number were injured.
At least 150 people were killed in Paris after a series of apparently coordinated attacks that included multiple shooting and explosions at various sites, French officials said.