This is an archived article and the information in the article may be outdated. Please look at the time stamp on the story to see when it was last updated.
A hurricane off the western coast of Baja California is expected to cause high surf and large tides to build at Southland beaches Friday, then bring strong rip currents and minor flooding throughout the weekend and into Monday, officials said.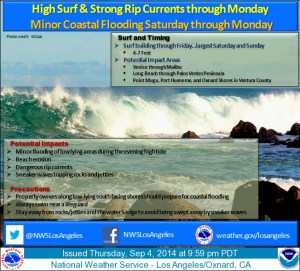 Breakers of 4 to 7 feet are likely over the weekend at beaches from Venice to Malibu, Long Beach to Palos Verdes Peninsula, and Point Mugu, Port Hueneme and Oxnard Shores in Ventura County, according to the National Weather Service. Waves may reach as high as 6 to 10 feet along the Orange County coast.
Hurricane Norbert may cause beach erosion, dangerous rip currents and "sneaker waves" atop rocks and jetties, the Weather Service said.
Property owners along low-lying, southern facing shores were advised to prepare for coastal flooding during evening high tides.
Crews were fortifying sand berms on both sides of the Long Beach peninsula and installing plugs in the Naples sea wall.
Additional city staff and equipment were being deployed to monitor conditions during the storm surge, according to a statement from the Long Beach City Manager's Office.
Amateur surfers and swimmers were urged to avoid entering dangerous waters, with the strongest rip currents and highest surf expected on Sunday and Monday, the Weather Service said.
Gerard "Josh" Van Egmond, lifeguard captain with the Newport Beach Fire Department, compared waters off that city's coast Friday morning to a difficult ski slope.
"This is a triple-black diamond," he said, after a swimmer in distress was rescued by lifeguards in a boat near the shore.
The effects of Norbert are not expected to be as strong as those of Hurricane Marie, which brought pounding surf to the region last week and caused flooding in areas including Seal Beach.
Tide Board 9/5:

07:50 AM 4.12 H
12:57 PM 2.02 L
07:09 PM 5.87 H

Surf: 3-5ft+ SSW
Sunset: 7:13pm
Water Temp: 67'-71'F

— LACoFD Lifeguards (@LACoLifeguards) September 5, 2014
More video: