This is an archived article and the information in the article may be outdated. Please look at the time stamp on the story to see when it was last updated.
As areas of the Inland Empire cleaned up from a strong thunderstorm that brought flooding and damaging high winds on Tuesday, that region and other areas of Southern California braced Wednesday for additional thunderstorms and possible flash floods that proved not to materialize.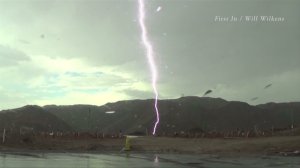 Tuesday's storm uprooted trees and flooded streets in some areas, notably Lake Elsinore and neighboring Wildomar, where the high school was inundated.
Some areas lost power during the storm, which came amid a punishing five-day heat wave that saw temperatures over 100 in many areas.
RELATED: Crews Work to Restore Power Amid Record-Breaking Heat
On Wednesday, as clouds formed, there was potential for flash flooding due to predicted afternoon thunderstorms in eastern San Gabriel Mountains and adjacent foothills in the Antelope Valley, which had been subject to hail and lighting on Tuesday.
Mount Baldy, Falling Springs, Big Pines and the eastern Antelope Valley had the best chance for flooding Wednesday, according to a forecast from the National Weather Service. A flash-flood watch was in effect for the region from 10 a.m. through evening.
"Dangerous" cloud-to-ground lighting, gusty winds, small hail and heavy downpours were possible, the weather service warned, advising drivers to avoid moving water on roadways.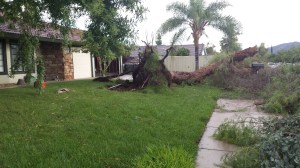 But such conditions were not reported by early evening, and flash-flood watch in the Inland Empire was canceled.
The flood watch for the mountains of Riverside and San Bernardino counties, as well as several inland valleys, was canceled about 5 p.m. Thunderstorms dissipated and the threat subsided, the weather service stated.
In Los Angeles and Ventura counties, a wind advisory was in effect from 1 p.m. through midnight, with gusts of up to 40 mph forecast.
And all beaches in Southern California again faced rip currents and high surf Wednesday. The previous day, L.A. County lifeguards made 187 rescues of people in the water.
Meanwhile, in the Lake Elsinore and Wildomar area, cleanup from Tuesday's mess was continuing. Three schools that were impacted by the storm were open, but at Elsinore High School, some 10 classrooms could not be used.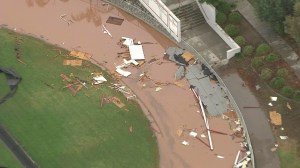 Some rooms had several inches of water in them Tuesday afternoon as the storm pounded the campus at the end of the school day.
"It definitely came at the worst time possible, when all the kids were out, when all the parents were here, and the buses were here to pick up students," Principal Jonathon Hurst said. "It was definitely chaotic for about 45 minutes."
The school's wooden gym floor was inundated, but Hurst said the facility was fine by Wednesday. The roof was blown off a dugout on the ball field, which was left a muddy mess.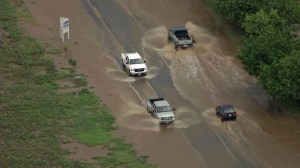 Elsewhere in the Riverside County community, a woman shot video showing her greenhouse blowing away as winds raged. A trampoline blew out of another yard and into a Lake Elsinore roadway, a photo showed.
Lightning and hail struck as wind and rain pelted the region, residents said.
"It was insane. It was like that scene in 'Twister' where everything is flying around," recalled Shannon Atkins, a staff member at the school, said Tuesday. "I was waiting to see the cow go by."
More video: