This is an archived article and the information in the article may be outdated. Please look at the time stamp on the story to see when it was last updated.
Car owners began returning to their vehicles Monday morning after having to abandon them amid the ice and snow that made driving nearly impossible near Mount Baldy a night earlier.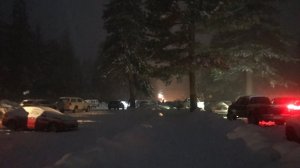 Several dozen vehicles were left stranded as motorists realized that even chains were not going to help them get down the mountain once temperatures plummeted Sunday evening. "There were people with chains on but they were still sliding. I think a lot of people crashed into each other," a resident said. Three women returning to their vehicle Monday morning said they went up to Mount Baldy for a day of snowboarding when they realized that things were getting bad about 4 p.m. They had chains on their vehicle but said many others did not and cars were not moving. "Chains were absolutely necessary. So many cars had no chains. There were no signs that said chains were required," one of the women said. Eventually, they had to leave their vehicle and walk about three miles to a home where some good Samaritans let them stay the night. By Monday morning, snow plows had come by and road conditions had improved enough for many people to get down the mountain. A California Highway Patrol official said about 50 vehicles still remained stopped on roadsides as of about 8 a.m. A similar situation took place in Big Bear Sunday night. Social media posts showed people stuck in the snow while long lines of vehicles traveled slowly on icy roadways.