This is an archived article and the information in the article may be outdated. Please look at the time stamp on the story to see when it was last updated.
The gusty Santa Ana winds that fanned multiple fires across Southern California this week will stay in the forecast through Friday evening as thousands of Southern California Edison customers continue to face preemptive power outages.
A National Weather Service graphic warned of "extreme red flag  warning conditions" for much of Los Angeles and Ventura counties, "especially in the morning hours when winds will be strongest." Similar conditions are expected for mountains and valleys of the Inland Empire and the inland portions of Orange County.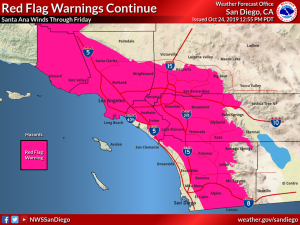 Northeast winds will be the most powerful in the mountains, with gusts up to 40 to 64 mph.
They'll push smoke towards Santa Clarita, Porter Ranch, Simi Valley, Calabasas and the San Fernando Valley, according to the South Coast Air Quality Management District, which has issued a smoke advisory for a large swath of L.A. County.
The winds are expected to die down later Friday, when the Santa Ana winds will end, the agency said.
Temperatures will hover from 87 to 97 degrees and humidities will drop as low as 2 to 9%, according to forecasters.
This means any ignition could potentially grow at a rapid and dangerous rate, the weather service said. The red flag warning is in effect through 10 p.m.
In the Santa Clarita area, where the Tick Fire continues to rage and burn homes, crews are facing 20 mph winds with gusts up to 30 to 40 mph, L.A. County fire Chief Daryl Osby said.
The winds currently coming from the northeast will shift directions Saturday morning, when it will start blowing from the south, said Lisa Phillips, a meteorologist with the weather service.
The southwest winds will push smoke towards Agua Dulce and Acton, air quality officials said.
Firefighters are bracing for that wind shift as they work on containing the Tick Fire.
"We don't want the fire behind us," Osby said.
An onshore flow will increase humidity on Saturday, according to the weather service. The region can expect cooler temperatures in the mid-70s on Sunday, with winds picking up in the late afternoon at 20 to 30 mph with gusts up to 50 mph.
A moderate Santa Ana wind event is expected Sunday and Monday, to be followed by a possibly stronger one on Wednesday and Thursday.
Looking ahead, we have more #SantaAnaWinds Sunday/Monday, and another one and just in time for #halloween2019 ! Be extra careful this week and avoid creating sparks! #LAWind #SoCal pic.twitter.com/Zm4rnsVfQT

— NWS Los Angeles (@NWSLosAngeles) October 25, 2019
Winds are starting to decrease over the area, but we still have a few sites gusting over 50 mph. Check out more winds at the link! #LAWind #SoCalhttps://t.co/lYdy9SVRCT

— NWS Los Angeles (@NWSLosAngeles) October 25, 2019
SoCal Edison power cuts
SoCal Edison said it had "de-energized the power" in the the Canyon Country community of Santa Clarita a little less than five hours before the Tick Fire erupted in the area. Authorities have not said what ignited the flames.
About 31,000 SoCal Edison customers lost service at the height of preemptive power cuts during this Santa Ana wind event, company spokesman Robert Viellegas told KTLA.
The utility has restored electricity for some. As of 1 p.m., some 20,000 customers–mostly in L.A. and San Bernardino counties–were without electricity.
More than 132,000 more are under a shutoff watch. Earlier, Viellegas said as many as 386,000 customers were being considered for outages.
The utility has not determined whether or not the power shutoffs will continue over the weekend, Viellegas said.
"We will wait out the weather," he added.
SoCal Edison's website has the latest list and maps of communities affected. Customers can also sign up online to receive power cut alerts from the utility.
Editor's note: The National Weather Service's Los Angeles office said the use of the word "extreme" as described above was a "mistake." The red flag warning "product" itself was not labeled extreme, but was described as such in at least three social media posts. A meteorologist said Oct. 29 that the office was using "extreme red flag warning" in a forecast for the first time.
[protected-iframe id="9dd5feec9e59f8c4a3ea0ad2513fb1d8-41641936-130764358″ info="https://interactives.ap.org/wildfire-tracker" width="100%" height="745px" class="ap-embed"]