This is an archived article and the information in the article may be outdated. Please look at the time stamp on the story to see when it was last updated.
Nearly four months after it was first detected, leading thousands of Porter Ranch residents to flee their homes, a leak in a natural gas well more than 8,000 feet underground has been stopped, state authorities and the Southern California Gas Co. announced Thursday.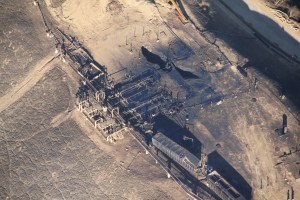 The well, sitting among more than 100 others in the utility's massive Aliso Canyon storage field in the Santa Susana Mountains, has been the site of round-the-clock work to stop the leak since early December.
On Thursday, utility officials addressed their efforts at a 10 a.m. news conference in Chatsworth, alongside government leaders, who confirmed the leak was halted. Jason Marshall of the California Department of Conservation said state Division of Oil, Gas and Geothermal Resources engineers confirmed the leak was stopped late Wednesday.
"We have good news," Marshall said. "The leak in Aliso Canyon storage field is permanently sealed."
Five separate tests were completed to determine the integrity of the cement seal, and air quality regulators also confirmed that gas emissions were controlled, said Marshall, who is the department's chief deputy director.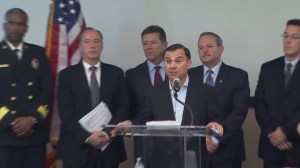 "This is obviously an important day that we've all been waiting for," said Gas Co. CEO Dennis Arriola.
Arriola, who spoke after several state and county officials, said he recognized the "disruption" the leak caused in the area.
SoCal Gas vowed to shut down the decades-old well after drilling a relief well to the source of the leak, which was discovered Oct. 23. That second well reached its destination on Feb. 11, when the company announced a temporary halt to the leak, made by injecting mud from the relief well into the old well.
At that time, infrared video from state air regulators showed a cloud of methane — a potent greenhouse gas — that was hovering over the Aliso Canyon had finally coming to a stop. During the month in which emissions from the well peaked last fall, the leak spewed an equivalent to about a quarter of all methane emissions across California for that time period, according to a state estimate. The California Air Resources Board is now working with the Jet Propulsion Laboratory and Caltech to get a more accurate accounting of methane leaked into the atmosphere by the well.
Regulators in January ordered SoCal Gas to adopt new methods to detect leaks, and to study the potential health effects on residents.
Now that the leak is sealed, the company must inspect and test every single well at Aliso Canyon before again injecting natural gas to the massive underground storage reservoir, Marshall said.
"We will investigate what happened," Marshall said. "What we learn from the findings … is going to guide us in the development and refinement of the emergency regulations into permanent regulations, with the goal of protecting public health and safety at all gas storage facilities in California."
Arriola said SoCal Gas would support "forward-looking" regulations for all facilities.
Polluting methane wasn't what sickened many Porter Ranch residents who complained of nausea, nosebleeds, headaches and other symptoms. Those symptoms were attributed to foul-smelling compounds added to the natural gas to help customers detect what is normally an odorless substance.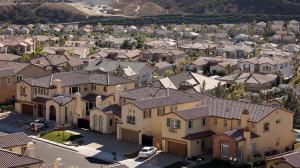 Amid the leak, thousands of residents left their homes and moved to hotels and apartments elsewhere — at SoCal Gas' expense. Gillian Wright, vice president of customer service for the company, acknowledged Thursday the relocation effort was "not a perfect process."
Public health officials have said the leak is not expected to have long-term health effects.
"If residents come back home, and they don't smell any odors or have any symptoms, then it's safe for them to return to their homes," said Dr. Jeffrey Gunzenhauser, interim Los Angeles County health officer.
Porter Ranch Community School and Castlebay Lane Charter relocated their students to other campuses, and Los Angeles Unified's superintendent said Thursday that the school district would begin planning for them to return.
The city of Los Angeles will lead efforts to help those residents return home, Mayor Eric Garcetti announced Wednesday. A local assistance center will be opened by the city, the mayor announced.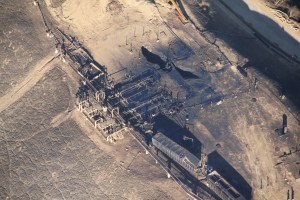 "Stopping the leak is only the first stage of recovery. Thousands of lives were upended by this disaster — and the City of Los Angeles is here to help people return to their homes, start doing business again, and get back to normal as quickly as possible," Garcetti said in a statement.
Residents have eight days and seven nights to return home, and payments for relocation will end as of Feb. 25, Wright said. Details are on SoCal Gas' website.
Multiple lawsuits have been filed against the utility, a subsidiary of San Diego-based Sempra Energy. And the leak has prompted both federal and state legislation, as well as repeated protests from area residents.
In early January, Gov. Jerry Brown declared a state of emergency due to the leak.
On Wednesday, SoCal Gas officials appeared in court in Santa Clarita to enter a not guilty plea in a criminal case brought by the Los Angeles County District Attorney's Office. The company was charged with three counts of failing to report the release of hazardous materials, and one count of discharging air contaminants.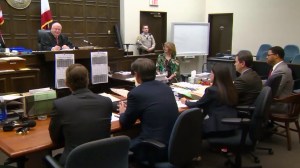 A company spokesman said SoCal Gas does not believe criminal prosecution is warranted, saying "prompt notifications" had been made to multiple agencies after the leak was found.
"We believe that we have operated the Aliso Canyon storage facility in compliance with all applicable laws and regulations," Gas Co. spokesman Mike Mizrahi said Wednesday. "We have worked hard and long on stopping the leak, and on mitigating the impacts of the leak on residents."
During the news conference Thursday, the president of the California Public Utilities Commission addressed complaints about high gas bills, which some residents speculated were linked to the Aliso Canyon situation. The utility has said there is no link, and commission President Michael Picker said high bills were likely caused by "the very cold winter that we've had."
SoCal Gas cannot change its rates without commission approval, Picker said.
Expenses related to the leak will be paid for by the company, which has $1 billion in insurance, not by ratepayers, Arriola said. The cost could reach up to $300 million, but that estimate may change, he said.