This is an archived article and the information in the article may be outdated. Please look at the time stamp on the story to see when it was last updated.
Crews were working to restore power to thousands of homes in Southern California that were left without electricity Friday due to the second powerful storm to move through the area this week.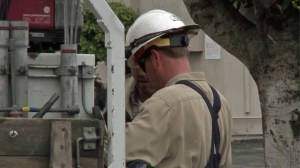 About 36,000 Southern California Edison customers were without power as of 4 p.m. Friday, according to a statement from the company.
Additional crews were scheduled to work this weekend, the statement said.
In the city of Los Angeles, about 14,000 homes lost power Friday morning. Service had been restored to all but 2,900 as of Friday evening, according to the Los Angeles Department of Water and Power.
Crews would continue to work around the clock until there were no more outages, the LADWP stated in a news release.
Some of the areas crews were still trying to restore power to as of 2 p.m. included Brentwood, Pacific Palisades, East Hollywood, Sawtelle and Echo Park.
Southern California Edison urged customers to prepare for possible evening power outages by taking proper precautionary measures, such as keeping a flashlight handy, installing surge protectors, backing up computer files, knowing where to find the utility box and how to turn it off, and keeping at least one car with half a tank of gas.
The LADWP was also warning people to never touch a downed power line or anything in contact with it. Downed power lines can be reported by calling the LADWP at 1-800-342-5397.
Additional safety tips can be found by visiting Southern California Edison's website at www.SCE.com/staysafe.
KTLA's Tracy Bloom contributed to this report.