This is an archived article and the information in the article may be outdated. Please look at the time stamp on the story to see when it was last updated.
As storms swept through Southern California late Friday night, scenes of toppled trees, damaged roads and reports of power outages affecting thousands arose by Saturday morning.
Just before 10 p.m. on Friday, at least 10,000 people throughout the Los Angeles region were without power, according to the L.A. Department of Water and Power. Meanwhile, some residents awoke to other damage left by the storm, which carried bolts of lightning and thunder.
There were trees struck down by strong winds and others left in flames by lightning, while some areas dealt with widespread power outages that were still affecting several counties by Saturday evening.
By that time, crews were still repairing impacted power lines stretching along the coast from Ventura down to Huntington Beach, according to Southern California Edison.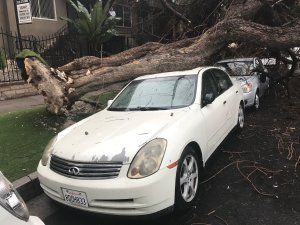 While the crews worked to restore power throughout the day, police in Los Angeles warned of some traffic lights still being out by nightfall — reminding drivers to treat those signals as a four-way stop sign.
In Hollywood, one man found his car crushed by a large tree, which was still blocking part of the roadway by late Saturday afternoon.
Surveillance video shows the tree fall within seconds, with its trunk slamming onto the hood of the car as the higher branches are seen hitting another car parked behind it.
Some roads were left covered in mud and debris, with rocks and dirt strewn across roadways near Joshua Tree National Park.
Park officials have told commuters to drive through those areas slowly as the park works to assess the damage and some roads remained closed.
Photos of Pinto Basin Road btwn Cottonwood Campground & I-10. This road & all dirt roads are currently closed. If you drive on Park Boulevard today, drive carefully & slowly as there are stretches of mud & sand. Turn around instead of driving through standing or flowing water. pic.twitter.com/XAooxUwvjL

— Joshua Tree NPS (@JoshuaTreeNPS) October 13, 2018
Lightning strikes left about six to 10 palm trees engulfed in flames in Los Alamitos, according to Orange County Fire Authority.
But the lightning was also seen in areas further south into Riverside County.
About 70 miles away, in Temecula, a man wearing a baseball hat with a small metal button at the top felt the effects of the lightning at close range. His hat was left scorched with holes after the lightning struck it, according to police.
He had just run outside for "a quick moment" to close the windows on his truck when a lightning bolt hit the vehicle before bouncing off and striking his hat, police said in a Facebook post. He was not injured.
[protected-iframe id="f20be96c0dd4df8e32bde431537caea0-41641936-124039311" info="https://www.facebook.com/plugins/post.php?href=https%3A%2F%2Fwww.facebook.com%2Ftemeculapolice%2Fposts%2F677279459324331&width=500" width="500" height="859" frameborder="0" style="border: none; overflow: hidden;" scrolling="no"]
Meanwhile, some have struggled to deal with the aftermath, as one resident told KTLA he didn't know what to do about the tree sitting on top of his vehicle.
"What can I do about it?" said Scott Torres. "I'm not a big guy — I'm definitely not moving that tree."