This is an archived article and the information in the article may be outdated. Please look at the time stamp on the story to see when it was last updated.
A Southern California woman on Wednesday filed a lawsuit against a former team doctor for USA Gymnastics, accusing him of sexually assaulting her when she was a college athlete, and the Michigan university where she played softball, claiming its handling of the situation forced her to leave the school.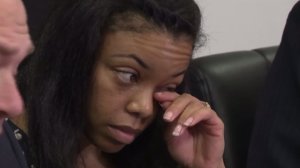 Tiffany Lopez is the 16th woman to file such a lawsuit against Dr. Larry Nassar, who was arrested late last month on charges of sexual assault in relation to his time as the team doctor for USA Gymnastics — where he served through four Olympics — and a professor and sports physician at Michigan State University. The Southern California resident filed the suit in Los Angeles Superior Court against Nassar and MSU after she returned home from the store and saw the doctor's picture on TV amid reports of other assault allegations lodged against him.
"I dropped my groceries and asked for my husband to come here," Lopez said. "He came running, thinking something was wrong. And it was, because everything I thought I had imagined this entire time was becoming very real. I saw his picture on the TV screen and I knew that I wasn't dreaming and that he had done what I thought he had did."
Lopez attended the university from 1999 to 2001 after receiving a scholarship to play softball, according to the lawsuit. She had just graduated from Jurupa Valley High School, where she was captain of the softball team senior year and earned all-league, all-state and all-CIF honors, her lawyers said.
Lopez alleges that when she began seeing Nassar for back pain when she was 18, he purported to treat her by touching her vagina while a team trainer was present.
"I do remember looking at my trainer and kind of giving her the big-eyed stare like, 'Is this OK?'" Lopez said.
But her trainer told her Nassar was a world-renown doctor and it was "legitimate medical treatment," so Lopez continued seeing him, according to the lawsuit. But the abuse only worsened as the treatment continued, she alleges.
"Nassar became more bold, having the plaintiff remove her pants, and then inserting his bare, ungloved and unlubricated hand into her vagina," the suit states.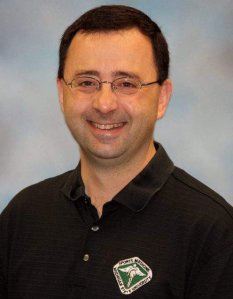 When Lopez reported this incident, this time to a higher-ranking trainer than before, the person expressed concern before referring her to one of the heads of the department Nassar worked in, the filing says. But the administrator allegedly told her Nassar's conduct did not constitute sexual abuse, she was not to discuss her allegations against him and instead continue her appointments.
"The supervisor dismissed my complaints and basically treated me as though I were crazy," Lopez said. "She indicated that Dr. Nassar used this procedure with many female athletes."
Lopez refused to continue seeing Nassar in 2001, according to the suit, but MSU "pressured and coerced [her] to declare herself medically inactive." Lopez claims she was "shunned" from the softball program and, since she had been on athletic scholarship, was forced to return to California.
Lopez had been a two-year started in the outfield and played 106 games for the school, according to her lawyers.
Nassar remained on the school's staff as professor and physician until this September, the Indianapolis Star reported.
Jason Cody, a representatives for MSU, said the school's police force is "devoting significant resources to the criminal investigation against him and are vigorously reviewing all complaints and working through them with the state Attorney General's office and the federal U.S. Attorney's Office."
Lopez's claims are similar to those of others who have filed suits against Nassar, including an Olympic bronze medalist who says during the late 1990s and early 2000s he digitally penetrated her under the guise of performing "intravaginal adjustment," a purported medical treatment — among other charges.
An investigative report by the Indianapolis Star this month uncovered at least 368 sexual abuse allegations lodged over the past 20 years against USA Gymnastics and its coaches, gym owners and other affiliated adults, such as Nassar.