This is an archived article and the information in the article may be outdated. Please look at the time stamp on the story to see when it was last updated.
BURBANK, Calif. (KTLA) — A police pursuit involving a worker at a local solar energy company ended after the driver crashed into another vehicle.
It began around 4:30 p.m. Monday as a possible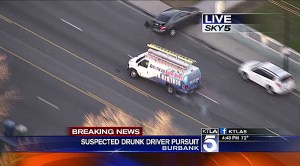 DUI after police received a call of a man in a work van driving erratically.
Officers tried to pull over the driver of the American Solar Direct van, but he refused to stop.
Instead, the man led officers on a slow chase along surface streets for about 18 minutes — into Sun Valley and back through Burbank.
The chase ended on Buena Vista St. after the van rear-ended another car, spinning it off the road and into a front yard.
At that point, the suspect pulled over and gave up. No one was injured.
American Solar Direct issued a statement saying they were shocked by the employee's actions and they are "cooperating with authorities regarding the unauthorized actions today involving one of its service technicians and a company vehicle."