This is an archived article and the information in the article may be outdated. Please look at the time stamp on the story to see when it was last updated.
Joel Cortez was the sole surviving victim of a deadly wrong-way crash on the 60 Freeway on Sunday that left six people dead, including four members of one family.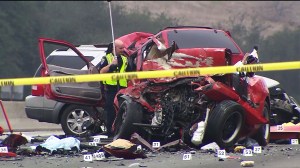 The 57-year-old was traveling in his Ford Freestyle when the vehicle in front of him "suddenly jumped into the air."
Olivia Carolee Culbreath, 21, was driving more than 100 miles an hour when her Camaro collided head-on with a 1998 Ford Explorer, which then hit Cortez, according to the California Highway Patrol.
At first, Cortez said he was confused and in a state of shock. But he slowly began to realize that something very bad had just happened.
While still sitting in his crushed vehicle, Cortez could hear panicked voices outside.
"I heard people talking … 'Oh my God, there are bodies all over the place,'" he said.
The Los Angeles County coroner's office identified the deceased as: Kristin Melissa Young, 21, of Chino; Maya Louise Culbreath, 24, of Rialto; Gregorio Mejia-Martinez, 47, of Huntington Park; Ester Delgado, of unknown age, from Huntington Park; Leticia Ibarra, 42, of Huntington Park; and Jessica Jasmine Mejia, 20, of Huntington Park.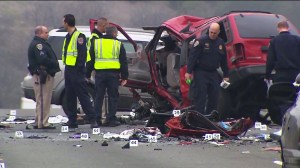 Young and Maya Culbreath died at the scene; they had been riding in a 2013 Chevrolet Camaro driven by Maya's younger sister Olivia, according to authorities.
The Camaro was headed east on the westbound 60 Freeway Sunday around 4:40 a.m., when the car was involved in the violent collision, California Highway Patrol officials said.
Olivia Culbreath had a previous DUI conviction and, a week before, had restrictions on her license lifted, according to the DMV.
Cortez walked away from the horrific scene with only minor injuries.
"I was lucky," he said.
Emma Cortez, Joel's daughter, said it was stunning to see photos of the destroyed vehicles at the scene.
"Once we'd seen pictures and images of the crash, it kind of hit us, like, 'Oh, my God. How did he make it?" Emma Cortez said.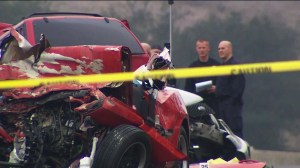 In the days since the crash, Cortez said he has been asked if he was angry at the 21-year-old alleged drunk driver.
"I don't feel angry," he said. "I feel sorry for her. I can't imagine how you can live the rest of your life … thinking how many people you killed, including your own sister."
Culbreath was 17 when she convicted of a DUI in 2010 in San Bernardino juvenile court, DMV officials said. She had at least two more traffic citations before her license was reinstated in December 2011.
Maya Culbreath also had multiple DUI convictions, and her license was suspended last year and had not been reinstated at the time of the crash, the L.A. Times reported.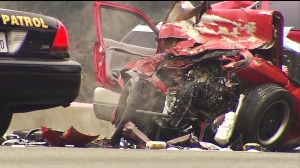 Culbreath remained hospitalized Tuesday at USC Medical Center, where she was being treated for a broken femur and a ruptured bladder.
She was arrested on suspicion of felony driving under the influence of alcohol causing great bodily injury or death, and of felony manslaughter, according to a news release issued by the CHP.
Chip Yost contributed to this story.