This is an archived article and the information in the article may be outdated. Please look at the time stamp on the story to see when it was last updated.
Around $600,000 in cash was on Wednesday found buried in the yard of a Fontana home once occupied by an armored car driver convicted of stealing about $1 million from a downtown Los Angeles bank, according to the FBI.
The driver, Cesar Yanez, conspired with a co-worker to pick up $1.086 million in cash from a Bank of America location and drop it in a trash can near a taco restaurant on West Adams Boulevard, according to court documents.
Yanez and Aldo Esquivel Vega, who worked for armored car company Loomis, executed their plan on June 27, 2014, allegedly having a co-conspirator, Leticia Yanez, pick up the cash.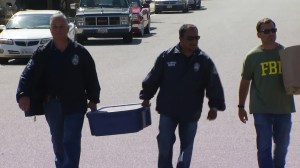 Yanez and Vega were arrested last November.
On Wednesday, authorities about $600,000 in cash buried in the backyard of a home in Fontana, according to Laura Eimiller, a spokeswoman for the FBI's Los Angeles Field Office. The home, at 9323 Marcona Ave., has been occupied Yanez, property records show.
Video from the scene showed federal agents transporting a plastic tub and paper bag from the home. The cash was in bundles, bound by rubber bands, inside the tub.
At the time of Yanez's and Vega's arrest last fall, agents found $85,000 at the home, an FBI news release stated last year.
It was not immediately clear what led the FBI to the tub of cash unearthed on Wednesday. Officials initially said the amount was between $500,000 and $600,000.
Some $300,000 remained missing, Eimiller said.
Yanez entered a plea agreement and was found guilty of bank larceny and conspiracy to commit bank larceny. He was sentenced to 57 months in prison on Aug. 25, court documents show.
A third alleged co-conspirator, Jovita Medina Guzman of San Bernardino, was accused of transporting some of the money to Vega.
Vega has not been sentenced, Assistant U.S. Attorney Justin Rhoades told the San Bernardino Sun.
The legal fate of Leticia Yanez and Guzman was not immediately clear, and a spokesman for the U.S. Attorney's Office for the Central District of California could not be reached for more information.
KTLA's Jennifer Thang contributed to this article.
More video: