This is an archived article and the information in the article may be outdated. Please look at the time stamp on the story to see when it was last updated.
Some residents of who live in the area where a Pomona police officer was fatally shot were allowed to return home for the first time following the incident on Sunday evening, officials said.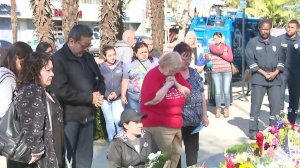 Those who live in the apartment complex on the 1400 block of Palomares Street were asked to evacuate Friday night when a man barricaded himself in an apartment after fleeing police, according to the Los Angeles County Sheriff's Department.
But they were finally allowed back into their homes at 6 p.m. Sunday, just after a door riddled with bullet holes was carried from the scene.
Residents had been ordered to leave due to the active nature of the investigation. Some who live in the building said that, while they were happy to cooperate with detectives, they were frustrated promises of shelter from Pomona police and the Red Cross never came through.
The suspect in the incident, Isaias De Jesus Valencia, 38, is expected to be charged with shooting through a door and injured two Pomona police officers, leaving one of them — 30-year-old Greggory Casillas — dead. Sheriff's officials had previously given Valencia's age as 39.
The injured officer was identified as Alex Nguyen during a vigil held Sunday evening. He is in stable condition, authorities said.
Valencia was arrested following a 15-hour standoff with authorities Saturday afternoon. He is expected to be charged with murder and attempted murder charges and scheduled to appear in court Tuesday.
The vigil held in honor of Casillas and Nguyen on Sunday night had to be moved from the Pomona police headquarters to an adjacent street corner due to its size. Officers from neighboring agencies were called in to patrol the area so that Pomona police officers could mourn.
Peter Mellini, a relative of Casillas' who attended, described the fallen officer as full of warmth and courage.
"He was always the one who would come up to you and greet you with a hug," Mellini said. "That's the way he was, just a very loving, caring person. And so it's a wonder to us that he was out there serving and protecting."
Correction: A previous version of this article included a misspelling on Officer Nguyen's name.
KTLA's Steve Bien contributed to this story.
Community members, officers and loved ones attend vigil in honor of fallen Pomona Police Officer Gregg Casillas, wounded Officer Alex Nguyen https://t.co/kb17i7ijnh pic.twitter.com/43sAYZEhGj

— KTLA (@KTLA) March 12, 2018
Photos of #LASD SEB and @PomonaPD working together for 15 hours to safely take an armed barricaded murder suspect into custody. pic.twitter.com/3qjMERoEZD

— SEB (@SEBLASD) March 11, 2018