This is an archived article and the information in the article may be outdated. Please look at the time stamp on the story to see when it was last updated.
A 20-year-old man fought off an intruder who was attempting to sexually assault his mother in their Glendale home late Wednesday night, police said.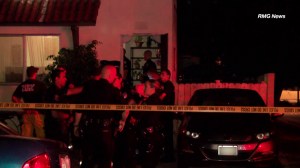 The incident began about 11 p.m. when police responded to a burglary call and arrested a man matching the intruder's description at a Taco Bell parking lot (map) not far from the home, Sgt. Luis Pasache of the Glendale Police Department said.
Prior to being arrested, the suspect had entered a home in the 900 block of Orange Grove Avenue where a woman was staying with her adult son and 7-year-old daughter, Sgt. Robert William of the Police Department said.
"The adult son woke up to his mom screaming and interrupted the act and basically chased the suspect out of the residence," William said.
The suspect, identified by police as 18-year-old Justin Rios, was booked on suspicion of sexual assault.
His bail was set at $200,000 according to a Los Angeles County Sheriff's Department inmate records search.