This is an archived article and the information in the article may be outdated. Please look at the time stamp on the story to see when it was last updated.
In an emergency phone call from the scene of the fatal shooting of Bell Gardens Mayor Daniel Crespo, his son told a dispatcher his mother had shot his father, but he insisted the gunfire was not his mother's fault.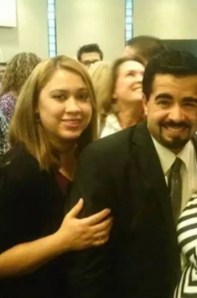 Audio of Daniel Crespo Jr.'s emotional 911 call to Bell Gardens police was released Tuesday, a week after the 45-year-old mayor was killed by his wife Levette Crespo, 43, according to authorities.
"My parents got in an argument and there were shots fired," Daniel Crespo Jr. can be heard saying on the Sept. 30 call. "It wasn't my mom's fault. She was defending herself."
The dispatcher asks Crespo, who is crying and only intermittently answering her questions, if "your mom shot your father."
"Yes," the son responds.
"He hurt me. He hurt me," Daniel Crespo Jr. says. "He's on the floor dying, OK? He hurt me."
At one point in the recording, a man can be heard telling screaming Crespo Jr. "You need to calm down and relax."
LISTEN: Raw Audio of Crespo Jr.'s 911 Call to Bell Gardens Police
The audio substantiated the information that the Los Angeles County Sheriff's Department has released thus far in its investigation into Crespo's death.
Crespo Jr., 19, tried to intervene when the couple got into an argument, investigators have said. Then, as the son and father struggled, Levette Crespo fired on her husband multiple times, according to the Sheriff's Department.
The investigation was continuing Tuesday and the case had not been handed to prosecutors, Sheriff's Department spokeswoman Nicole Nishida said.
Levette Crespo was initially detained but later released and has not been charged in the shooting of her husband, who died at the hospital after being transported from the family's home on Gage Avenue.
After his death, allegations of infidelity and abuse surfaced. Attorneys for the wife and the couple's two children held a news conference, describing a difficult home life that belied appearances of normalcy.
The couple had been high-school sweethearts who married as teenagers in New York City. They came to Bell Gardens in 1987.
Crespo was elected in 2001 and was a longtime employee of the county probation department.
He was remembered at a vigil at City Hall Friday as a generous person who emerged from a tough childhood in Brooklyn to become the mayor of a small Los Angeles-area city.