This is an archived article and the information in the article may be outdated. Please look at the time stamp on the story to see when it was last updated.
Los Angeles Clippers co-owner Shelley Sterling met with former Microsoft CEO Steve Ballmer over the weekend to discuss selling the team, a source familiar with the matter told CNN.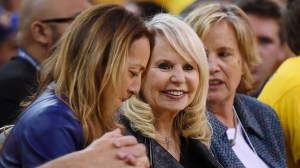 That news followed Friday's reports that Sterling, according to a source familiar with the situation, and her estranged husband, Donald, agreed that Shelley would try to sell the NBA franchise voluntarily even as the league prepares a vote on a forced sale.
Any move by the Sterlings to sell the team voluntarily would be subject to the league's approval. The NBA said Friday that its team owners still would vote on whether to force a sale because of racist remarks that Donald Sterling made.