This is an archived article and the information in the article may be outdated. Please look at the time stamp on the story to see when it was last updated.
An emotional Los Angeles County Sheriff Lee Baca announced he planned to retire during a news conference Tuesday at department headquarters in Monterey Park.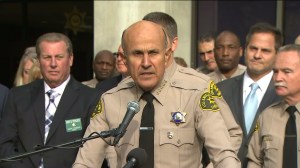 "I will go out on my terms. I'm not going to seek reelection for a fifth term as sheriff, and I will retire at the end of this month," Baca told a crowd of reporters.
"The reasons for doing so are so many. Some are most personal and private, but the prevailing one is the negative perception this upcoming campaign has brought to the exemplary service provided by the men and women of the Sheriff's Department," Baca said.
Surrounded by deputies and department brass, Baca said he had just recently come to the decision to step down.
"I actually thought about it about three days ago. So you can tell this is not something I really had in mind," Baca said.
He went on to thank his mentors, predecessors and county voters.
"To the people of Los Angeles County, I also extend a deep sense of gratitude for allowing me to serve for the past 48 years."
Baca insisted he had served the department honestly and enforced the law fairly.
"As your elected Sheriff for the past 15 years, I have held fast to the Core Values of this great department."
He then praised his colleagues.
"In my opinion, your Sheriff's Department is the greatest law enforcement agency in the world," he said to applause.
KTLA 5 has learned Baca informed the Los Angeles County Board of Supervisors of his plans to step down on Monday night.
Supervisor Mark Ridley-Thomas told KTLA 5 he was "shocked" by Baca's decision because the sheriff had continued to indicate he planned to seek reelection.
The surprising announcement came amid allegations of abuse and misconduct within the Sheriff's Department.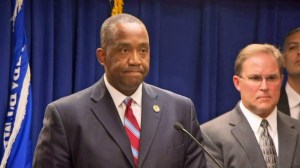 Eighteen current and former members of the department were charged in an ongoing FBI investigation into alleged abuse of inmates and visitors at jails, federal authorities announced on Monday, Dec. 9.
Shortly after the indictments were announced, Baca appeared at a news conference and said the Sheriff's Department had fully cooperated with the FBI's investigation.
"Please know that I respect the criminal justice system and no one is above the law," Baca said in December.
There were also reports that the department had hired dozens of officers with histories of misconduct.
On Dec. 28, the Times reported the Sheriff's Department planned to implement a new policy that would require the agency's background investigators to report job applicants who admitted to potential criminal conduct.
Baca has served as sheriff since 1998, and was up for reelection in June.
KTLA 5's Melissa Pamer and Kacey Montoya contributed to this report.