This is an archived article and the information in the article may be outdated. Please look at the time stamp on the story to see when it was last updated.
Police on Friday were investigating a shooting in South L.A. after a gunshot victim crashed his car across the street from Main Street Elementary School, officers said.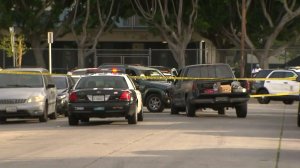 Authorities responded to the scene of the crash on 52nd Street and Woodlawn Avenue, in the South Park neighborhood, around 4:40 p.m., according to Los Angeles Police Department Officer Aareon Jefferson.
The school was placed on lockdown due to the proximity of the crime scene, he said.
Officers found the victim in the driver's seat of a green Jeep that had collided with a blue truck, LAPD Sgt. James Townsend said at the scene.
The victim was suffering from a single gunshot wound to his head and taken to a nearby hospital, where he remains in critical condition, according to Townsend.
"We believe that the shooting might have happened somewhere else and that when the victim was driving northbound on Woodlawn he ran into that blue truck there," Townsend told KTLA.
Both occupants of the pickup were also transported to the hospital for treatment of injuries that were not fatal, Townsend said.
Detectives were on scene working to determine a motive and suspect description, though preliminary investigation led police to believe the shooter was a Hispanic man.
KTLA's Nidia Becerra contributed to this article.