This is an archived article and the information in the article may be outdated. Please look at the time stamp on the story to see when it was last updated.
When the tent caught fire, flames blew through an iron fence into an employee parking lot and quickly enveloped two cars.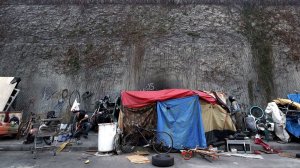 Rumors swirled that one homeless person had torched another's tent, but Los Angeles firefighters found no leads to investigate.
New tents quickly appeared along the fence at 38th and Hill streets, where Amy Willens' Infiniti Q50 was destroyed that March day.
"I called LAPD," said Willens, the controller of an apparel manufacturing firm. "They came out. I said, 'Get them moved.' They said they can't."
Read the full story on LATimes.com.