This is an archived article and the information in the article may be outdated. Please look at the time stamp on the story to see when it was last updated.
The 26-year-old South Los Angeles woman who set off a manhunt across Los Angeles and Orange counties based on a false police report was sentenced to 60 days in jail, officials said Friday.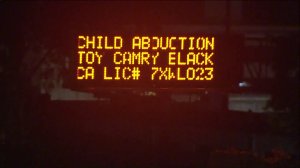 Charline Gatson was convicted after pleading no contest to filing a false police report in connection with the July 6 incident that triggered an Amber Alert, according to a statement from Los Angeles City Attorney's Officer.
Gatson told authorities an acquaintance took the car from her at gunpoint in Vermont Knolls while her 16-year-old stepson was inside. However, Gatson had actually loaned the car to the friend, who later refused to return it under the terms previously arranged, prosecutors said.
"Making a false criminal report is a serious offense with real consequences," City Attorney Mike Feuer said in the release. "It squanders precious law enforcement resources that should be devoted to solving actual crimes. And here, this reckless and irresponsible action triggered an Amber Alert that diverted attention throughout our region."
Police later found the vehicle in San Bernardino and determined the teen had not been victimized.
Gaston was then arrested. She also had an active arrest warrant for failing to appear in court for a restitution hearing involving a 2015 conviction for auto theft.
Gaston's sentence includes 36 months of probation and a $220 fine, as well as the 60 days in county jail, officials said.
A new date for the restitution hearing has yet to be scheduled.