This is an archived article and the information in the article may be outdated. Please look at the time stamp on the story to see when it was last updated.
In the conclusion of a case that captivated Southern California for months, a South Pasadena man who pleaded guilty earlier this month to the murder of his 5-year-old son was sentenced Wednesday to 25 years to life in state prison.
Aramazd Andressian Sr., 35, who initially denied any involvement in his son's disappearance following a trip to Disneyland in April, had on Aug. 1 changed his not guilty plea and admitted to the killing.
In addition to his prison sentence, of which Andressian Sr. will be given credit for 64 days served, he was also ordered by Judge Cathryn Brougham to pay restitution to the family of the victim, Aramazd Andressian Jr.
A series of emotional statements from the little boy's relatives preceded the defendant's sentencing in an Alhambra courtroom. Ana Estevez, the child's mother, called her estranged husband a "failure" as a father, man and human being, saying she pitied the defendant.
"I hope you relive the image of you murdering my baby every day for the rest of your insignificant life," Estevez said.
After learning he would have to be placed under oath, Andressian Sr. declined an opportunity to respond following Estevez's statement.
Andressian Jr.'s disappearance sparked a monthslong search for the boy, whose body was eventually recovered when his father led police to the Lake Cachuma area in Santa Barbara County. Estevez had long held out hope that her son would be found alive, weeks after she reported him missing when his father failed to show up for a planned custody exchange.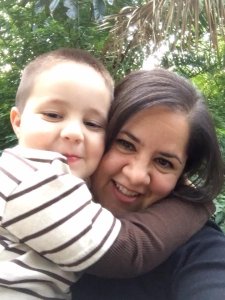 "June 30th was the most tragic, earth-shattering day of my life. That was the day two detectives came knocking on my door late at night to inform me that my son's lifeless body was found in a wooded area on some random hillside," Estevez said in court.
Sobbing, she recounted the childhood milestones she would miss with her son. His first day of kindergarten would have been last week, Estevez said.
"I wish that I was taken instead of my son, so that my sweet baby could live," she said.
Andressian Sr., wearing a blue antisuicide jail smock, stared forward as Estevez spoke, not looking at her.
He was taken into custody after he was found passed out near his car at Arroyo Park on April 22, when he had been expected to return the boy, known as "Piqui," to Estevez.
Although he was arrested on suspicion of child abduction and endangerment, Andressian Sr. was let go due to lack of evidence. He fled to Las Vegas, where he was arrested for a second time on June 23.
On July 1, the day Andressian Sr. was extradited to Los Angeles, the body of Andressian Jr. was discovered.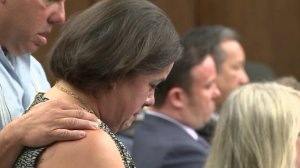 Prosecutors believe Andressian Sr. killed his son to get back at Estevez during a contentious divorce.
At a news briefing after the sentencing, Los Angeles County Sheriff's Department Detective Louie Aguilera said the little boy was smothered to death with a child's jacket near Lake Cachuma. After, Andressian Sr. placed the boy's body in a wilderness area about 1 to 2 miles beyond the lake.
For months, Andressian Sr. had plotted to kill his son and himself, and then "have everyone point the finger at Ana, as her having something to do with it," Aguilera said.
Andressian Sr.'s defense attorney, Ambrosio Rodriguez, appeared on the KTLA Morning News on Aug. 2, a day after his client entered a guilty plea.
Rodriguez said at that time that Andressian Sr. might make a statement at his sentencing but his client wanted to avoid making "the pain worse."
The two conferred during Wednesday's hearing before Andressian Sr. confirmed he would not speak. Rodriguez spoke instead, saying he "did eventually do the right thing" by confessing and leading investigators to the child's body.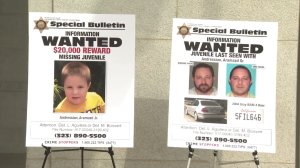 "I want to pass on his deep, deep regret and remorse as to as to what happened," Rodriguez said. "There are no words to, obviously, justify what happened."
Rodriguez, who was hired after Andressian Sr.'s arrest in Las Vegas, told KTLA earlier this month that his client told him he had "wanted to plead guilty from the very beginning."
Outside of the courthouse, Estevez said she was not surprised and was relieved that Andressian Sr. didn't make a statement in court.
"He is a monster because he murdered his own child and has yet to show an ounce of remorse," Estevez said.
She thanked those who searched for her son and the police and sheriff's officials who investigated his disappearance and killing, but angrily assailed the family court judge and evaluator who handled the couple's custody dispute.
"I ask, how do you sleep at night?" Estevez said. "Because you refused to take the time to listen objectively and critically evaluate evidence presented, my son is now dead."
Reading from a statement, she also criticized county Department of Children and Family Services workers who she said closed a case involved the victim and the defendant.
"Was justice served? In my eyes and in my heart, when there is accountability for all, then justice will be served," Estevez said. "There will be justice for Piqui and justice for hundreds of other helpless children who have become victims of the broken system."