This is an archived article and the information in the article may be outdated. Please look at the time stamp on the story to see when it was last updated.
The South Pasadena man accused of killing his 5-year-old son who had been missing for about two months pleaded not guilty Monday during his first court appearance since being extradited  from Nevada last week.
Aramazd Andressian Sr., 35, was arrested in Las Vegas on June 23, where Los Angeles County Sheriff's investigators said he was seen socializing.
Andressian Sr.  was charged with murder earlier this month before his son, Aramazd "Piqui" Andressian Jr., was found.
During his arraignment in an Alhambra courthouse Monday, Andressian Sr. was wearing a vest to prevent him from hanging himself with his clothing. His attorney said Andressian is being psychologically evaluated.
His bail was set at $10 million bail and was previously considered a flight risk.
The boy's mother, Ana Estevez, was in the courtroom Monday.
"We are grieving right now," the victim's uncle, Shaun Estevez said. "It's very hard. This is a very hard situation."
Speaking to KTLA from his Baldwin Park home, the boy's maternal grandfather, Orlando Estevez, said he never liked his former son-in-law. Andressian Jr. didn't spend a lot of time with his father, Estevez said, but would always complain when it was Andressian Sr,'s turn to assume custody.
"I don't want to go back with my dad. I want to stay with you, Yaya and my mama forever," he said his grandson used to tell him.
Andressian Sr. was extradited back to Los Angeles County on June 30, the same day his son's remains were found near Lake Cachuma.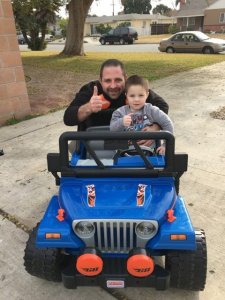 Detectives had searched the area at least twice before and returned after receiving "additional leads." Officials have not elaborated what led them back to the mountainous area or commented on the body's condition.
It is unclear how long Andressian Jr. had been dead, but investigators previously said that the boy's father took him to the Santa Barbara County lake after a trip to Disneyland on April 21, the last day the boy was seen alive.
The boy was reported missing on April 22 when Andressian Sr. failed to show up to a custody exchange with the boy's mother.
About the same time, Andressian was found unresponsive in South Pasadena's Arroyo Park. His car was doused in gasoline and he had taken prescription drugs, according to sheriff's investigators.
Andressian was then arrested on suspicion of child endangerment and child abduction but was eventually released because of lack of evidence.
Andressian Sr.'s recently retained attorney, Ambrosio Rodriguez, offered his condolences to the boy's family Saturday.
"This is a sad and solemn day for the Andressian family, one they all hoped would never come," Rodriguez said in a statement.  "The family mourns the death of Ara, Jr. and are in seclusion grieving. All thoughts and prayers are with the Andressian family and all of Ara, Jr.'s relatives on this sad day."
Before the arraignment Monday Rodriguez told KTLA that he will be reviewing police reports and building his client's case.
"At this moment I am a little bit in the dark as to what exactly the police have, what they are charging him with," he said.
Andressian Sr. is due back in court on Aug. 16 for a preliminary hearing. He faces a possible maximum sentence of 25 years to life in state prison if convicted.