This is an archived article and the information in the article may be outdated. Please look at the time stamp on the story to see when it was last updated.
Two teens who allegedly plotted a "massacre" at South Pasadena High School exchanged detailed plans via social media and, once in custody, "coldheartedly" confirmed their intentions in police interviews, the city's police chief said Tuesday.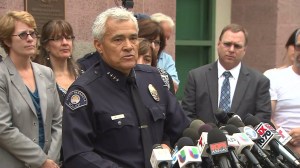 A community member who learned of the plans alerted school officials, who in turn contacted police last Thursday, Chief Arthur Miller said at a morning news conference.
"It was very viable, what they were plotting. They were making a huge plan of a school massacre that identified three staff members at the school by name that they were targeting," as well as "random" students, Miller said.
"They just wanted to kill as many people as possible," he said.
No weapons were found when the students were detained, but the pair believed they had access to a firearm belonging to a relative, Miller said. The two boys discussed using automatic weapons, knives, bombs and wearing bulletproof vests, according to the chief.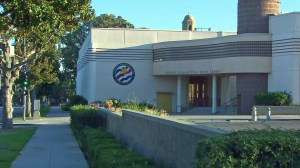 It was too early to tell if they had obtained any of those items, Miller said.
The arrest of the two students was announced by police Monday evening, three days before school was scheduled to begin, but few details were provided.
The male students, ages 16 and 17, were held on suspicion of conspiracy and criminal threats but could face additional charges, the chief said.
After being contacted by the school, detectives worked nonstop until the teens were taken into custody Monday, Miller said. They conducted "Internet surveillance" on the pair, who used a social media platform that Miller did not specify.
The teens were just beginning to plan their efforts, Miller said.
"They didn't have a target date but they had very, very specific plan as to how they were going to carry out their sick mission," the chief said.
After detectives presented their case Monday, a judge signed a search warrant and the two boys detained. The students' parents were "stunned" but cooperative, Miller said.
Miller said the FBI offered to help police and has been aiding the investigation in South Pasadena, an affluent city of about 26,000 residents that borders northeast Los Angeles (map).
Police and school district active-shooter training this year helped raise awareness that should be credited for saving lives, the chief said.
Detectives planned to present the case to the Los Angeles County District Attorney's Office today. After that time, more information will be released, Miller said.
In a letter to school family and employees sent Tuesday night, South Pasadena Unified School District Superintendent Geoff Yantz and South Pasadena High School Principal Janet Anderson said there would be a heightened police presence on the campus the first day of school, which is Thrusday.
"That presence is for reassurance and security and not due to any ongoing threat, " Yantz and Anderson said, adding that counselors would also be available on campus for students, staff and parents to speak with.
"At the conclusion of the police investigation, the District will follow through with appropriate action as our disciplinary provisions allow. We ask that parents remain strong and reassuring for their children," the letter read.
A prayer vigil was also scheduled to be held Wednesday starting at 7 p.m. Organized by religious leaders in South Pasadena, the vigil would begin at Holy Family Church and end at the high school.