This is an archived article and the information in the article may be outdated. Please look at the time stamp on the story to see when it was last updated.
The southbound side of the 710 Freeway in Bell reopened Monday evening, more than 24 hours after a tanker truck crash ignited an inferno that sent dramatic flames and plumes of thick black smoke high into the air above southeast Los Angeles County.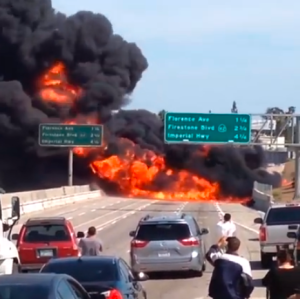 The single-vehicle collision occurred about 3:30 p.m. Sunday on the southbound side of the interstate, near Florence Avenue (map), when the driver of the truck heard "a loud pop" shortly after entering the freeway, California Highway Patrol Officer Juan Galvan said.
"He started slowing down and pulled to the right shoulder, but by that time the rear trailer had already overturned and was dragging," Galvan said.
A massive fire broke out, fueled by the 8,500 gallons of gasoline the tanker was carrying.
More than 50 firefighters responded to the scene.
"Our first action was to … make sure everybody was out safely, then attack the fire itself, and dike and dam — contain that fuel from going any further," said Capt. Keith Mora, a spokesman for the Los Angeles County Fire Department.
Without a water source near the southbound lanes, the firefighters had to extend a water line across the northbound side, prompting a complete closure of the freeway between South Atlantic Boulevard and Florence Avenue, Mora said.
Several stranded motorists exited their vehicles and captured photos and videos of the fire, which they then shared on social media.
"We were just hearing 'boom, boom, boom' everywhere, flames coming everywhere," said witness Eugene Biscardi. "The sky was just fully black."
The blaze was extinguished within an hour, the Fire Department said. No injuries were reported.
All northbound lanes were reopened by 9 p.m. Sunday. Southbound lanes reopened shortly before 5 p.m. Monday, according to Caltrans and CHP.
The cause of the incident is under investigation.
KTLA's Melissa Pamer contributed to this article.
SB 710 #tankerfire update: all lanes now open! #Caltrans pic.twitter.com/XQxVBHXToM

— Caltrans District 7 (@CaltransDist7) April 28, 2015