This is an archived article and the information in the article may be outdated. Please look at the time stamp on the story to see when it was last updated.
The southbound side of Interstate 5 was shut down for eight hours Saturday after about 30 vehicles crashed on the freeway near Bakersfield, the California Highway Patrol reported.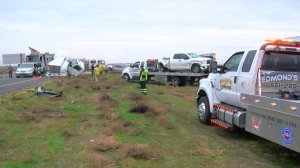 The crash was reported at 8:46 a.m. on the southbound side of the 5 Freeway, north of Highway 99 junction, according to a CHP incident information page. The incident began as a two-car collision near the interstate's intersection with State Route 166, according to CHP spokesperson Brian Moore.
The two cars involved in the crash were stopped on the freeway, and soon a big rig traveling in the same direction ran into them, Moore said. That impact killed two people: a 50-year-old man and 35-year-old woman from Manteca, he said.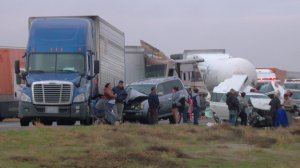 With traffic lanes blocked by the wreckage, a group of more than a dozen vehicles were unable to stop in time and began smashing into each other in a series of at least nine more collisions, according to Moore. In total some 30 vehicles were involved in the chain-reaction crash.
The southbound lanes of Interstate 5 were closed most of the day until just before 6 p.m., according to Caltrans District 6. Motorists had been detoured off at State Route 166.
Interstate 5 was later closed in both directions around 7:30 p.m. due to snow along the Grapevine, but the roadway reopened just before 11 p.m.