This is an archived article and the information in the article may be outdated. Please look at the time stamp on the story to see when it was last updated.
A FedEx truck caught fire Wednesday on the 5 Freeway in Castaic, prompting the closure of two southbound lanes for roughly four hours, authorities said.
Traffic was backed up nearly 4 miles before the lanes were reopened around 8:20 p.m., according to Caltrans.
Firefighters were seen battling a blaze that engulfed the front of the truck and spread to a nearby hill, just north of Lake Hughes Road.
The brush fire was confined to less than 1 acre as of 4:15 p.m., according to the Los Angeles County Fire Department.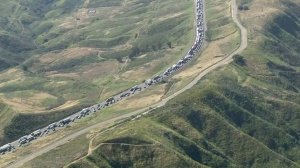 Aerial video from Sky5 showed traffic backed up for miles as firefighters worked to extinguish the fire.
A SigAlert had been issued for the southbound lanes, which were expected to stay closed for at least two hours, according to California Highway Patrol.
Caltrans estimated the two lanes would reopen around 9 p.m., but cleanup crews were able to make swifter progress than expected.
Authorities did not provide information on what started the fire or if anyone was injured.
No further details were immediately available.
SB I-5 at Lake Hughes Rd #Castaic Lanes #3 & 4 blocked due to big-rig fire #LAtraffic https://t.co/cxZ0jVPIRf pic.twitter.com/hd1yKG3RWM

— Caltrans District 7 (@CaltransDist7) June 6, 2019
***SIGALERT*** SB I-5 North of Lake Hughes Rd for the next 2 hours for to a vehicle for that spread to the shoulder. pic.twitter.com/sA7vndhqx5

— CHP Newhall (@CHP_Newhall) June 5, 2019