This is an archived article and the information in the article may be outdated. Please look at the time stamp on the story to see when it was last updated.
Southwest Airlines is offering one-way flights between the Los Angeles area and Northern California for as little as $29, but the sale ends Wednesday.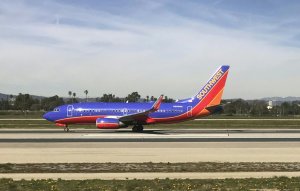 The fares, primarily offered on weekday flights, are valid between Feb. 27 and May 23 and must be purchased 21 days in advance, according to the airline's website.
Travelers can purchase the cheap tickets for select flights originating out of the L.A., Long Beach or Burbank airports, and going to destinations including San Francisco, San Jose, Oakland and Sacramento. The airports in Santa Ana and Ontario are offering the same deal.
Returns flights from Northern California to Southern California can also be purchased for as low as $29.
Additionally, fares posted to Southwest's website on Wednesday also showed that one-way tickets to Las Vegas from Los Angeles International Airport cost as little as $40.
The discounted fares are nonrefundable, and seats and travel dates are limited, the airline said. They can be purchased through Feb. 7.