This is an archived article and the information in the article may be outdated. Please look at the time stamp on the story to see when it was last updated.
Witnesses to a deadly crash in West Puente Valley on Easter Sunday said speed and racing may have played a role when a car slammed into a parked truck, killing two men and seriously injuring a woman.
The crash occurred around 3:20 a.m. on North Puente Avenue, south of Sauder Street (map), a California Highway Patrol news release stated. It was located in an unincorporated area, bordering the city of La Puente in the San Gabriel Valley.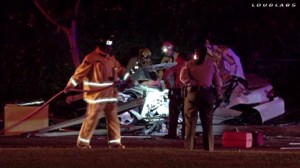 Responding officials discovered a badly damaged white Chevrolet Malibu, the front end of which was almost completely crushed, video showed.
The crash occurred when the car slammed into an unoccupied, parked Ford truck that officials initially described as a work truck.
Although racing was not initially suspected, witnesses told officials the Chevrolet was going up to 80 mph and appeared to be racing a beige sedan, a CHP news release stated.
The two men killed in the collision were later identified as 26-year-old driver Johnny Deleon of West Covina and 19-year-old passenger Jonathan Londono of La Puente, said Denise Bertoni, an investigator with the Los Angeles County coroner's office.
A 23-year-old woman sustained serious internal injuries. She was transported to the LAC+USC Medical Center, CHP officials said.
A toxicology report was expected to be done and an investigation into the cause of the crash was underway, CHP officials said.
"Driving at high rates of speeds in the dark, in the night, poses a huge, huge threat, possibly to pedestrians crossing the roadways, obviously parked vehicles," CHP Officer Napoleon Salais said. "Especially if someone's under the influence, that can greatly increase the chances and likeliness of a collision."
The CHP were on heightened alert during the holiday weekend, and officials said there was a higher-than-normal rate of crashes thus far.
"The beginning of any holiday we are aware of all of that, and try to beef up our units in the field and try to maintain a maximum enforcement," Salais said.
A SigAlert was issued shortly before 4 a.m. stating the intersection of North Puente Avenue and Amar Road (map) was closed, the CHP tweeted. It was reopened before 7 a.m.
 KTLA's John A. Moreno contributed to this report.