This is an archived article and the information in the article may be outdated. Please look at the time stamp on the story to see when it was last updated.
A man suspected of driving under the influence was taken into custody Tuesday morning after allegedly running from a vehicle that spun out in Anaheim.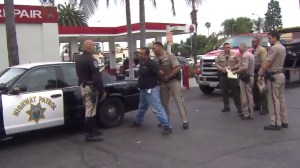 The incident began when a Los Angeles County Sheriff's Deputy attempted to pull the suspected DUI driver over for reckless driving at about 5:45 a.m., Sgt. Paul Jernigan told the Orange County Register.
Deputies canceled the pursuit a short time later and notified the California Highway Patrol, the Register reported.
Authorities were not following the car as it sped through city streets in the Bellflower area about 6 a.m.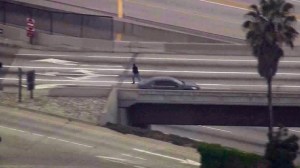 At one point, aerial video from Sky5 showed the driver, later identified as 36-year-old Evaristo Lopez by the Anaheim Police Department, narrowly squeeze between two other cars on a surface street, slightly damaging at least one of the vehicles.
The driver was then seen speeding past drivers on the 91 and 5 freeways.
Eventually the driver exited the 5 Freeway at Euclid Street before spinning out and leaving the car facing the wrong way in the middle of the street in Anaheim.
He was seen running near the intersection of West Lincoln Avenue and Euclid Street and appeared to be talking on a cell phone.
Anaheim police arrived on scene a short time later and began searching for the man who was seen walking through a nearby shopping complex.
Anaheim police later confirmed they had Lopez on suspicion of evading an officer, hit and run, DUI and drug possession.
Lopez was allegedly in possession of marijuana when he was arrested.