This is an archived article and the information in the article may be outdated. Please look at the time stamp on the story to see when it was last updated.
Stan Chambers, who served for more than six decades as a reporter at KTLA, was celebrated by family and friends Friday during a funeral mass.
Six sons and two step-sons were among the pallbearers during the private ceremony at St. Brendan Church in Windsor Square.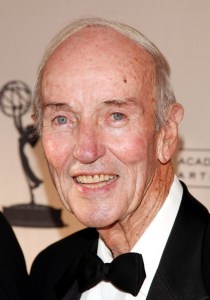 Chambers died at his Holmby Hills home a week earlier, on Feb. 13, at the age of 91.
He was a beloved journalist and familiar face in Southern California. He first began working at KTLA in 1947.
"If there ever was an angel on Earth, there was Stan Chambers," said Gerald Ruben, a former KTLA executive producer who worked with Chambers for more than 30 years.
Former KTLA anchor Marta Waller said being around Chambers made people smile. His funeral was an occasion for both sadness and joy, she suggested.
"It would make me want to cry, except he had such a wonderful life, and we are all better because he was here," Waller said.
Photos: Stan Chambers Through the Years
Chambers retired in 2010 at age 87.
He was a USC graduate who served in the U.S. Navy. His career at KTLA saw many television news broadcasting firsts.
"To call him the dean of Southern California TV reporters is to lowball what he was. He was, for one thing, the sweetest man ever to hold a microphone," wrote longtime Los Angeles Times reporter columnist Patt Morrison.
Hundreds turned out for the funeral, and when the hearse drove away, the crowd on the church's front steps clapped.
Chambers would have been happy to see everyone gathered together, his son Ed Chambers said.
"He would say, 'Haven't we had a great time?'" Ed Chambers said.
Stan Chambers is survived by his wife GeGe, 11 children, 38 grandchildren and eight great-grandchildren.
To sign the online guestbook for Chambers, visit InvoCares.com.
More Video: