This is an archived article and the information in the article may be outdated. Please look at the time stamp on the story to see when it was last updated.
Two apartment complexes and a strip mall were evacuated Sunday night after an SUV struck a gas meter behind a laundromat in Stanton, authorities said.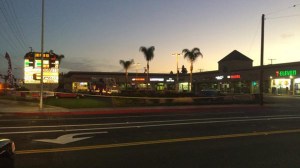 The collision was reported at 5:50 p.m. in the 12600 block of Beach Boulevard, near Lampson Avenue (map), said Capt. Steve Concialdi of the Orange County Fire Authority.
The driver fled the scene in the SUV after the crash and remained at large, according to Lt. Jeff Hallock of the county Sheriff's Department.
Authorities later announced that they had located the gold-colored Chevy Suburban. It was unoccupied.
Deputies and OCFA personnel evacuated about 125 people from the apartment complexes and the strip mall, Concialdi said. The evacuation could last at long as two hours, he said.
Southern California Gas Company crews arrived at the scene about 6:25 p.m. and shut down the damaged gas line before repair work began.